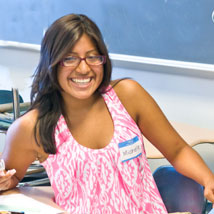 The 2018-2019 First Year Experience program at NCC features a series of events and services aimed at helping you learn about the College and connect to the campus, your professors, and your classmates.
Easing your transition to college, helping you feel at home on campus, promoting academic success—all are goals of Nassau Community College's First Year Experience (FYE) program!
The FYE Program includes:
An FYE blog, "What's Up NCC?", containing important information about NCC, tips on academic success, and discussions of issues of interest and importance to new college students;
An FYE Twitter page with daily posts about upcoming campus events and links to interesting places on the NCC homepage and elsewhere;
A common text, Imbolo Mbue's Behold the Dreamers, which will be read and discussed in many classes and which will serve as the basis for many campus programs and activities;
A campus-wide Day of Service, scheduled for April 2019, an opportunity for students to join with their classmates in charitable activities that benefit others (on and off campus); and
A series of discussions, titled "Conversations about College," covering college and campus life. "Conversations" workshops and discussions take place throughout the fall and spring semesters.
NCC's First Year Experience Program offers many opportunities for you to see what Nassau is all about and to make the most of your college experience. We invite you to take part! For more information about FYE services and programs, visit the:
First Year Experience Homepage