Per SUNY's COVID-19 Vaccination Policy all students, with an on-campus presence are required to be fully vaccinated or be granted an exemption if they are on-campus. Proof must be submitted to the SUNY Vaccination Verification Application through the NCC mobile app.
It is also highly encouraged for all employees to be fully vaccinated.
---
Submit Proof of Vaccination
Students must verify their vaccination status before trying to register for Face-to-Face classes. Vaccine verification should be submitted to the SUNY Vaccination Verification Application. This application can also be accessed through the NCC mobile app. Steps for Verification are listed below.
Steps for Verification and Face-to-Face Class Registration:
Example of SUNY Verification Screen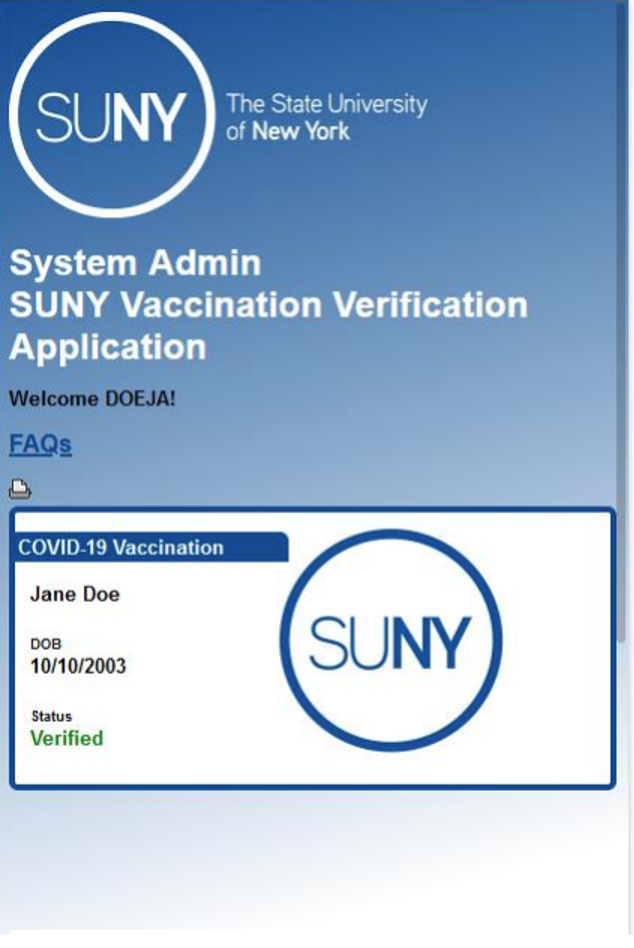 Go to the SUNY Verification Application.
Choose your campus: Select Nassau from the drop down menu. Click "Log In".
SUNY Nassau Login page: Type your N Number and Password. Click "Sign In".
Vaccination Information entry screen: Enter your information exactly as it is written on your vaccination card and click "Verify".
Verification:

Successful Verification: Upon successful verification, you will see a "Verified" screen like the one on the right.
Unsuccessful Verification: Make sure your information is correct and try again. If still unsuccessful, follow instructions to upload a picture of your card. Once uploaded, a "Manual Review Pending" message will appear at the top of the screen. IMPORTANT: If you are pending Manual Review, please email the Student Health Office at HealthOffice@ncc.edu so we may process your request as quickly as possible.

Registration: Once you receive the "Verified" screen, students should allow one (1) hour before logging into Banner to register for their class. If you are still unable to register after 24 hours, please email HealthOffice@ncc.edu.
A detailed step by step instruction manual on how to verify your vaccine status can be viewed in this instructional guide.
A SUNY Vaccination Verification Application FAQ document is also available.
---
COVID-19 Booster Policy
As of 7/1/22, boosters are no longer required to attend face-to-face classes at NCC. However, students are strongly encouraged to receive their booster to stay up-to-date with their vaccinations. Students are eligible for a COVID-19 booster five (5) months after completing their primary vaccine series of Moderna or Pfizer or two (2) months after receiving their Johnson & Johnson's Janssen vaccine.
Please note the following regarding NCC's booster policy:
Upload your proof of Booster via the NCC Mobile App using the "Submit Proof of Booster" form, NOT THE SUNY VERIFICATION APPLICATION. Instructions for upload are listed below.
If you have had COVID-19 recently: At this time, NCC follows current CDC guidelines, which states that as long as you are fully recovered and have completed your isolation period, you may receive your booster.
Students with questions should contact healthoffice@ncc.edu
To upload your proof of booster, follow the below instructions. Please allow up to two (2) weeks for boosters to be reviewed:
Login to the NCC Mobile App with your NCC ID and Password
Select the "Vaccine & Booster Verification" Tile on the home screen.
Select the "Submit Proof of Booster" form and follow instructions to upload your booster
---
Medical & Religious Exemptions
To apply for a medical or religious exemption, please download and complete the relevant exemption form.
The deadline to apply for a medical or religious exemption for the Winter 2023 Semester is January 4th, 2023.

The deadline to apply for a medical or religious exemption for the Spring 2023 Semester is February 7th, 2023.
Medical Exemption Form: Submit your form by emailing HealthOffice@ncc.edu.
Religious Exemption Form: Submit your form by emailing aao.exemptions@ncc.edu
Note: Students should read the exemption form carefully as criteria for exemption are stringent. Please also note that processing of exemptions may take up two (2) weeks.
---
Medical Accommodation
International students who received a COVID-19 vaccine not authorized or approved by the FDA or the WHO, or students who have recently received the first dose of a two-dose vaccination series, may apply for a temporary medical accommodation to allow them time to become fully vaccinated.
Any such requests will be reviewed and granted on a case-by-case basis by the campus.
To apply for a medical accommodation, email HealthOffice@ncc.edu.