SUNY EMPIRE STATE COLLEGE AND SUNY NASSAU COMMUNITY COLLEGE SIGN PARTNERSHIP AGREEMENT BENEFITING ALLIED HEALTH PROFESSIONALS
Partnership paves the way for SUNY Nassau Community College graduates to earn an online B.S. in allied health degree through SUNY Empire State College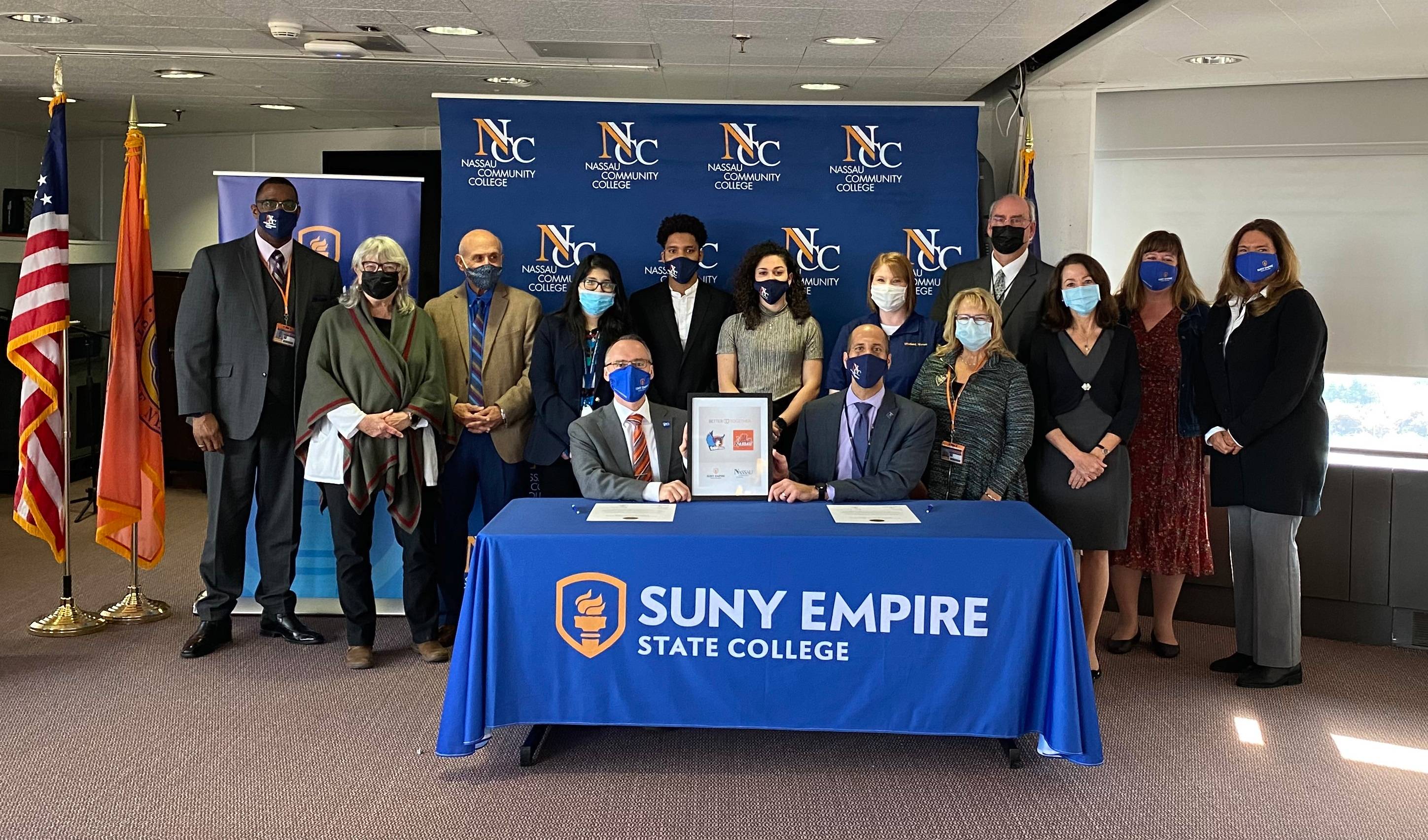 (GARDEN CITY, NY — November 17, 2021) — SUNY Empire State College and SUNY Nassau Community College held a formal signing ceremony to celebrate six new Pathways in Allied Health Transfer Agreements. The agreement gives SUNY Nassau graduates who earn their associate degree in allied health fields guaranteed admission to SUNY Empire's Bachelor of Science in Allied Health online degree program, a Better Together Scholarship, and other partnership benefits.
Allied health professionals represent 60% of all healthcare providers, and the U.S. Department of Labor projects that healthcare careers will continue to grow 19% through 2024. In addition, an increasing number of careers in allied health require bachelor's and graduate degrees.
The partnership also benefits area healthcare organizations, such as Northwell Health, and patients in the surrounding communities who will benefit from students' advanced knowledge and expertise. Regional Chief HR Officer at Northwell Health, Kathleen Donovan, attended and spoke at the event.
SUNY Empire State College Officer in Charge Nathan Gonyea, Ph.D. said, "SUNY Nassau has long been an important partner of ours, and our missions share a lot in common. Both of us are committed to accessible, affordable, world-class education that is convenient to traditional and nontraditional students alike. We are proud to welcome SUNY Nassau graduates through this partnership to help them attain advanced degrees in critical healthcare fields. It's a partnership that truly benefits everyone involved, including people in the communities we serve."
SUNY Nassau Community College President Jermaine F. Williams, Ed.D. said, "Community colleges are a critical access point to higher education and a bridge to fulfilling the dreams of so many students. This partnership allows for our SUNY Nassau students to identify an academic path that is linked with their end goals, get on their path, and stay on their path while learning the essential knowledge and skills that will yield success in their lives. We are thankful for the partnership we have formed with Empire State College as we continue to advance equitable opportunities for student access, completion and post-completion success."
Regional Chief HR Officer at Northwell Health, Kathleen Donovan said, "At Northwell Health we aim to be better tomorrow than we are today in service of our communities, and we are delighted to be a part of this momentous SUNY partnership that sustains commitment to learning and paves the way in for our communities for careers, especially in Healthcare. SUNY Nassau and Northwell share a common goal to provide meaningful work and meaningful education to the youth and adult learners in our diverse communities and we look forward to continuing our partnership to advance a seamless movement from academic pathways to career pathways at Northwell."
SUNY Empire State College Director of Academic Partnerships Brian Goodale, Ph.D. said, "SUNY Nassau Community College and SUNY Empire State College have a longstanding partnership built on providing excellent academic opportunities for the residents and employers of Nassau County and the surrounding region. We are excited to offer these six new transfer agreements in allied health to support the educational and training needs of the essential healthcare industry."
SUNY Nassau student, Justine Rice, said, "I have never felt more confident in my decision to pursue my nursing degree as an adult. The SUNY Nassau multi-award nursing degree program has allowed me to pursue my RN at an affordable tuition while maintaining my family life and my current job. I am on my way to a great career that I am very passionate about, and I was able to do it because of the SUNY Nassau and SUNY Empire State partnership."
For more information, or to inquire about community college or corporate partnership opportunities with SUNY Empire State College, visit the college's partnership programs page.
About SUNY Empire State College
SUNY Empire State College educates 17,000 students per year in person, online, and through a blend of both, at locations in every region of New York and at eight international sites worldwide. Together with one of SUNY Empire's 700 faculty mentors, each student designs their own individualized pathway to a college degree that accommodates their schedule and awards credit for prior college-level learning. Now in its 50th year, SUNY Empire awards approximately 3,000 degrees annually and 94 percent of graduates stay in New York state. Today, more than 92,000 SUNY Empire alumni are entrepreneurs, veterans, and active members of the military, professional athletes, teachers, medical professionals, and leaders in their field, as well as in their communities. To learn more, visit www.esc.edu and follow the college on social media @SUNYEmpire.
About SUNY Nassau Community College
SUNY Nassau Community College is an institution where nearly 14,000 full-time, part-time, workforce development and continuing education students start and continue their successful journey through higher education. More than 80 fields of study are offered on a 225-acre campus located in the center of Long Island. As the largest single-campus two-year college in the New York State SUNY System, SUNY Nassau offers a high-quality education and excellent support services, providing students with a solid foundation for their future successes. SUNY Nassau graduates join a network of hundreds of thousands, representing professionals in healthcare, legal, education, business, and government. Visit www.ncc.edu for more information.
Ref:2182.11/17/21/150
SUNY Nassau Media Contact:
Lindsey Angioletti, Director of Marketing & Communications
lindsey.angioletti@ncc.edu | C: 516.320.0695
ncc.edu/newsreleases