NEWS RELEASE
Immediate: October 24, 2011 Media Contact: Alicia Steger 516.572.9634 Email: alicia.steger@ncc.edu ncc.edu/newsreleases
Nassau Community College Presents "Cell Phones and Health — What We Know; How to Protect Yourself NOW!" Scientist, Professor & Author Dr. Devra Davis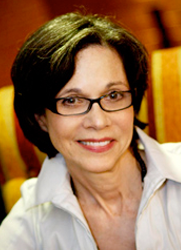 November 21
Garden City, NY – The Nassau Community College Cultural Program is proud to present "Cell Phones and Health — What We Know; How to Protect Yourself NOW!," which will take place on Monday, November 21 at 2:00 p.m. in the College Center Building (CCB). The program will feature scientist, professor and author Dr. Devra Davis, M.P.H., Ph.D.
Are cancer, brain damage, hearing loss and reproductive problems caused by cell phone use? Dr. Devra Lee Davis is recognized internationally for her work on environmental health and disease prevention. In her latest book "Disconnect," Dr. Davis discusses "the truth about cell phone radiation and your health, what the industry has done to hide it, and what you can do to protect your family" by examining the controversy surrounding cell phone use and its possible link to brain cancer and other aspects of human health. Dr. Davis has worked for the National Academy of Sciences and was a senior advisor in the U.S. Department of Health and Human Services. She served as a lead author of the Intergovernmental Panel on Climate Change, which was awarded the Nobel Prize in 2007 along with Al Gore. Dr. Davis was also the founding director of the Center for Environmental Oncology at the University of Pittsburgh. She currently lectures at Harvard and Georgetown Universities.
Dr. Davis has authored more than 190 articles in books and journals, including the "Lancet," the "Journal of the American Medical Association," Scientific American" and "The New York Times." Her Ph.D. is in science studies and her post-doctoral Master of Public Health is in epidemiology.
For more information about "Cell Phones and Health — What We Know; How to Protect Yourself NOW!" — which is free, open to the public and accessible to the disabled — call 516.572.7153.
About Nassau Community College Nassau Community College, part of the State University of New York, is an institution where nearly 24,000 full- and part-time students and almost 15,000 continuing and professional students start and continue their successful journey through higher education. More than 70 fields of study are offered on a 225-acre campus located in the center of Long Island. As the largest single-campus two-year college in New York State, Nassau Community College maintains a national reputation for excellence.
Ref: 1568.10/24/11.182