NEWS RELEASE
Immediate: September 28, 2011
Media Contact: Alicia Steger516.572.9634Email: alicia.steger@ncc.eduncc.edu/newsreleases
Entourage Creator & Producer Doug Ellin to Speak at NCC:"The Experiences of a Hollywood Insider"October 12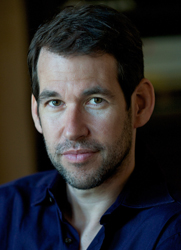 Download hi res photoGarden City, NY – The Fall Cultural Program at Nassau Community College is proud to present "The Experiences of a Hollywood Insider" by Doug Ellin, creator and producer of the hit television show Entourage. The event will take place on Wednesday, October 12 at 12:30 p.m. in the College Center Building.
Merrick native Doug Ellin moved to Hollywood in 1990 to become a stand-up comedian. While working the circuit at comedy club mainstays including The Improv and The Comedy Store, Ellin took a job in the mailroom of New Line Cinema. It was this connection through New Line Production Head Michael DeLuca that Ellin's career was able to take off, albeit in a different direction.
After seeing his stand-up routine, DeLuca partially funded Ellin's comedic short film The Pitch starring David Schwimmer, Ernie Hudson and Jonathan Silverman. The film went on to air on Showtime. After this, Ellin continued to write and direct other films featuring such actors as Schwimmer, Jon Cryer and Bonnie Hunt. While continuing to write and develop feature film and television projects, Ellin joined forces with Mark Wahlberg to create Entourage, which is loosely based upon their shared Hollywood experiences. Entourage, which is in its eighth and final season for HBO, is a critical and audience hit. The series has been nominated for numerous awards, including the Golden Globes, the Emmys and the Screen Actors Guild awards.
Most recently, Ellin has written a pilot called Forty, which will star Edward Burns and shoot in New York. He has also teamed up with Spike Lee and John Ridley to create Da Brick, a pilot based on the life of Mike Tyson.
"The Experience of a Hollywood Insider" will be a moderated conversation with NCC Communications Professor Trent Webb as moderator. For more information about the event, which is free, open to the public and accessible to the disabled, call 516.572.7153.
About Nassau Community College Nassau Community College, a division of the State University of New York, is an institution where nearly 24,000 full- and part-time students and almost 15,000 continuing and professional students start and continue their successful journey through higher education. More than 70 fields of study are offered on a 225-acre campus located in the center of Long Island. As the largest single-campus two-year college in New York State, Nassau Community College maintains a national reputation for excellence.
Ref: 1556.9/28/11.180