NEWS RELEASES
Immediate: October 4, 2011 Media Contact:Alicia Steger: 516.572.9634Email: alicia.steger@ncc.eduncc.edu/newsreleases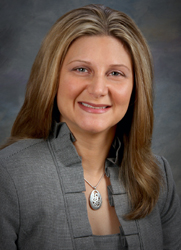 Dawn DiStefano Appointed Executive Director of the Nassau Community College Foundation
Garden City, NY – Nassau Community College is proud to announce that Dawn DiStefano has been appointed Executive Director of the Nassau Community College Foundation. She assumed her position on September 1.
DiStefano comes to her position with a wealth of experience in both the financial industry and higher education. Among the companies she has worked for are Fidelity Investments and Charles Schwab & Co., Inc. DiStefano has also taught on the college level and has extensive experience with Long Island non-profit organizations. "We are indeed fortunate to have someone with Dawn's capabilities at the College. Her skills and enthusiasm make her the perfect fit for this position," said Dr. Donald Astrab, President of NCC.
DiStefano is a proud alumna of Nassau. She also has a BBA and an MBA in Management. She looks forward to working with the College community, as well as to partnering with prominent business leaders and nonprofit organizations. "I feel like together we can accomplish big things that will really benefit Nassau Community College students and our community," DiStefano said.
The Nassau Community College Foundation is a not-for-profit corporation created to support the mission of the College by providing an independent avenue to receive philanthropic aid. It also provides scholarships for Nassau Community College students and is dedicated to the educational, cultural, and financial enhancement of the College. The Foundation values honesty and integrity in its relationship with the College, its donors, and the community.
About Nassau Community College Nassau Community College, a division of the State University of New York, is an institution where nearly 24,000 full- and part-time students and almost 15,000 continuing and professional students start and continue their successful journey through higher education. More than 70 fields of study are offered on a 225-acre campus located in the center of Long Island. As the largest single-campus two-year college in New York State, Nassau Community College maintains a national reputation for excellence.
Ref: 1550.9/9/11.5