NEWS RELEASE
Immediate: October 10, 2011Media Contact:Alicia Steger 516.572.9634Email: alicia.steger@ncc.eduncc.edu/newsreleases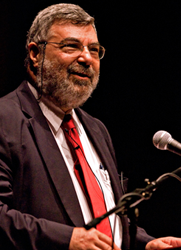 Nassau Community College Presents "The Arab Spring: What's Next?" Beirut "Daily Star" Editor-at-Large Rami Khouri October 24
Garden City, NY – The Nassau Community College Cultural Program is proud to present "The Arab Spring: What's Next?," a presentation by Rami Khouri, Editor-at-Large for the "Daily Star" of Beirut, Lebanon. This timely program will take place on Monday, October 24 at 11:00 a.m. in the College Center Building.
Rami Khouri knows the Middle East like few other journalists. As the Editor-at-Large of "The Daily Star" in Beirut, Lebanon, he reports from ground zero of the conflict as it unfolds. A Palestinian-Jordanian, educated in both the Middle East and the United States, Khouri is a widely respected international political columnist. He travels from the Middle East to offer current and fresh reports and analysis on what is happening beyond "the green zones."
For more information about "The Arab Spring: What's Next?" — which is free, open to the public and accessible to the disabled — call 516.572.7153.
About Nassau Community College Nassau Community College, a division of the State University of New York, is an institution where nearly 24,000 full- and part-time students and almost 15,000 continuing and professional students start and continue their successful journey through higher education. More than 70 fields of study are offered on a 225-acre campus located in the center of Long Island. As the largest single-campus two-year college in New York State, Nassau Community College maintains a national reputation for excellence.
Ref: 1558.10/10/11.182