NEWS RELEASE
For Immediate Release – March 1, 2011 Media Contact: Alicia Steger 516.572.9634 E-Mail: alicia.steger@ncc.edu ncc.edu/newsreleases
HIV/AIDS and Sexual Health Awareness Day at Nassau Community College March 22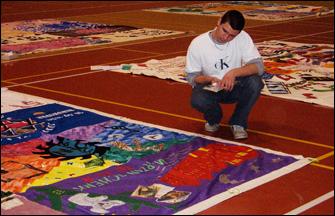 Garden City, NY — In recognition of HIV/AIDS Awareness Week, Nassau Community College will for the 21st consecutive year present a series of events addressing the issues surrounding the condition. On Tuesday, March 22, the college will host the following events:
9:00 a.m. to 4:00 p.m.Free Confidential HIV TestingAIDS Memorial Quilt Display; AIDS: The Care Givers - A Photo ExhibitPhysical Education Complex Field HouseA collection of national and international quilts on display, along with photographs and resource tables from various community organizations.Museum of SexualityAn exhibit featuring projects made by NCC Human Sexuality students on such topics as marriage customs, dating rituals and pornography.
10:00 a.m.TALK AIDS, Inc. – Scott FriedPhysical Education Complex – Dance Studio – Room P 117Scott Fried was infected with HIV during his first and only unsafe sexual encounter. Fried is a published author who has spoken at over 750 institutions nationally and internationally. His goal is to bring awareness to HIV/AIDS and encourage an open and honest dialogue.
1:00 p.m.Love HealsPhysical Education Complex – Dance Studio – Room P 117This presentation includes inspirational stories from two young adults living with HIV infection.
Admission to HIV/AIDS and Sexual Health Awareness Day at Nassau Community College is free and the public is invited. All programs are accessible to the disabled. For more information about these programs, call Dr. Donna Bacon at 516.572.7528.
Ref: 1512.2/22/11/190
About Nassau Community College Nassau Community College, a division of the State University of New York, is an institution where nearly 24,000 full- and part-time students and almost 15,000 continuing and professional students start and continue their successful journey through higher education. More than 70 fields of study are offered on a 225-acre campus located in the center of Long Island. As the largest single-campus two-year college in New York State, Nassau Community College maintains a national reputation for excellence. For more information, visit www.ncc.edu.