NEWS RELEASE
Immediate: January 13, 2011
Media Contact: Alicia Steger516.572.9634E-mail: alicia.steger@ncc.eduncc.edu/newsreleases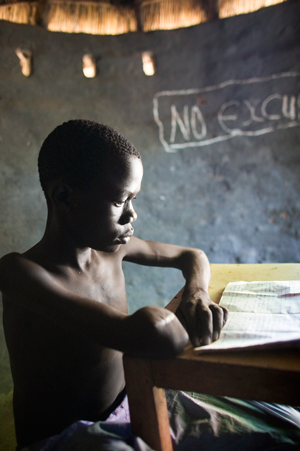 The Nassau Community College Firehouse Plaza Art Gallery PresentsTransforming Lives
January 18 – March 17
Garden City, NY – The Firehouse Plaza Art Gallery at Nassau Community College is proud to present the exhibit Transforming Lives, which runs from January 18 through March 17. Transforming Lives features photographs of Uganda's youth taken by artist and activist Stephen Shames of L.E.A.D. (Locate Educate Achieve Dream) Uganda. The non-profit program collects donations to educate vulnerable children in Uganda.
Shames visited Uganda while doing an assignment about AIDS in 2000. As he photographed the funeral of a woman who left behind five children, he formed a special bond with the youngest child, Sarah. Affected by his experience, Shames paid for Sarah's siblings and other orphans to attend school. This experience inspired him to develop L.E.A.D. Uganda in 2004.
The Firehouse Plaza Art Gallery is located in Room 140 of the College Center Building (CCB) on the NCC campus. It's open from 11:30 a.m. to 4:30 p.m. on Monday, Wednesday and Thursday, 11:30 a.m. to 7:00 p.m. on Tuesday and 11:00 a.m. to 3:00 p.m. on Saturday. All exhibitions are free and open to the public. For further information about the Transforming Lives exhibit, please call 516.572.0619.
About Nassau Community College Nassau Community College, a division of the State University of New York, is an institution where nearly 24,000 full- and part-time students and almost 15,000 continuing and professional students start and continue their successful journey through higher education. More than 70 fields of study are offered on a 225-acre campus located in the center of Long Island. As the largest single-campus two-year college in New York State, Nassau Community College maintains a national reputation for excellence.
Ref: 1503.1/13/190