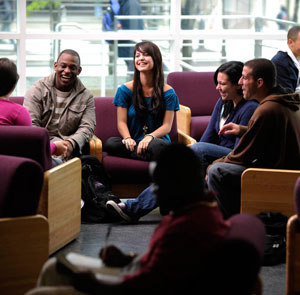 Organizations & Activities
Be a part of something...
You've heard the advice before -- get involved, join a club. At Nassau there's an especially important reason to do so. We are a very large commuter college. Involvement is a good way to develop relationships with other students and to create a sense of community for yourself and others.
Participation in student groups provides opportunities for you to get to know a group of classmates and a faculty member, to pursue a particular interest, to learn more about your major, to celebrate your culture and/or religion, or just to have fun. Involvement affords you opportunities to attend—and even plan—social and educational programs for your group and the entire student body. Some groups also offer you the chance to provide a service for the whole campus.
We hope that one of the student groups described below will interest you. If not, the Office of Student Activities will be happy to assist you in starting your own club. Stop by Room 150 in the College Center if you have questions or need help.
Students who are involved in clubs and organizations say that it makes a great deal of difference in their attitude toward Nassau. So give yourself the chance to make Nassau a more complete experience. Join a club!
Here's a look at the student organizations you'll find at NCC:
A B C D E F G H I J K L M N O P Q R S T U V W X Y Z Other Clubs
The Access Club is an organization whose goal is to heighten the awareness of students and faculty to the rights, needs, and responsibilities of students who happen to have a disability. The club meets biweekly to discuss student experiences and plan events that promote our mission. Some of the past events that we have presented are career programs and a disability awareness program for the campus community at large. For the future we are planning a barbecue and other awareness programs. Although the club's focus is on issues regarding the disabled student, we encourage all students to join us. So come see us and learn what equal access is all about. For more information, contact the club's advisor, Prof. Jeff Frankel, at 516.572.7241.
The Accounting Society is one of the most professional and career-oriented clubs on campus. It is designed not just for accounting majors but for all students who have an interest in developing their careers in accounting, business, or related fields. It gives students who are uncertain of their future professional goals opportunities to gain more insights into the business world and to realize their career choices. Our past events have been very successful. They have featured prominent and reputable speakers from firms that introduce the profession to our majors, along with speakers that have one-to-one discussions with our members. Occasionally we have a "Transfer Day," where representatives from four-year colleges give a detailed analysis of their accounting and business programs. In addition, we have workshops on resume writing and interview preparation. Future events include a trip to local accounting firms and an end-of-year luncheon for our members and faculty. As a member of the society, you will receive a certificate honoring your membership as well as invitations to all events. Come and join us. For more information, contact the Accounting/Business Administration Department (Cluster A, Rm. 3020; 516.572.7544).
The objective of the Achilles Club is to support socialization, self-awareness, and self-advocacy through a wide variety of activities. These activities are structured around the theme of "Odyssey: Inward and Outward Explorations," where club members will "navigate" their inner, social, and college worlds (through recreational and educational activities and visual and performing arts projects), as well as the world beyond NCC. They will also try to make a better world through a community service project. Many of the activities are based on social skills programming, including peer mentoring, counseling, and stress reduction techniques. For more information, please contact Profs. Lagakis (572-7464, ext.25357; Vasiliki.Lagakis@ncc.edu) and Jewett (516.572.7241; Orval.Jewett@ncc.edu). Meetings are held on Tuesdays (some Thursdays) in Nassau Hall, Rm. 218.
The IOTA Delta chapter of the Alpha Beta Gamma International Business Honor Society at Nassau Community College is an organization whose goal is to provide leadership opportunities, sponsor forums for the exchange of ideas, and stimulate interest in continuing academic excellence. Membership is open to students who are pursuing an A.S. degree in accounting or business administration, have completed 15 credit hours, and have demonstrated excellence by attaining a 3.0 GPA in business courses as well as a 3.0 overall average. There is a lifetime membership fee imposed by the national organization,as well as benefits such as travel and hotel discounts, a membership certificate, and scholarships to four-year colleges and universities. Please join us! For more information, contact Profs. Maryann Capone or Marguerite Teubner, faculty advisors, in the Accounting and Business Administration Department, Cluster A-3020; 516.572.7544.
The ASL Club embraces the language and culture of the Deaf community. Our main goal is to give students the opportunity to improve their use and understanding of the language, which we do through regular and continuous practice. The club sponsors field trips and programs that promote cross-cultural communication between deaf and hearing persons and foster mutual respect, dignity, and understanding. Membership consists of students whose signing skills range from beginner to advanced. All interested students are welcome. For more information about the club, contact club advisor Prof. Alec Naiman in the Communications Dept., Building H-103; 516.252.1329; Alec.Naiman@ncc.edu.
Amnesty International is an organization that was founded in 1961 to advocate for human rights through both research and action. The objective of this organization and now, this club, is to bring awareness to the abuse of human rights, such as the freedom of expression, freedom against torture or cruel treatment, freedom from discrimination, and so on, and also to help combat these abuses through action. We will be participating in various projects such as food drives and fundraising. In addition, guest speakers will be contacted to provide more of a firsthand look at what Amnesty International does and what the human rights world is like. The Amnesty International club welcomes all students who are interested in getting involved and learning about human rights as well as what we can do to help those in need. For more information, contact Prof. Lynn Rozzi, at 516.572.7162, ext. 25063 (lynn.rozzi@ncc.edu) or email ncc.amnesty.international@gmail.com
Anime clubs are a rising subculture on college campuses. They allow students to come together and embrace Japanese pop culture. Come join the NCC Anime Club and discuss and watch the latest animes, participate in fun activities, and in general, just have a good time with people who share the same interests. The club meets during club hour (11:30 a.m.) on Tuesdays and Thursdays in F-241. For more information, contact the club's advisor, Prof. Bill Zatulskis, at 516.572.7141.
The Art Club provides an opportunity for students at NCC to further their artistic endeavors beyond the classroom setting. Professional artists are invited to conduct workshops with our students in a wide range of 2D and 3D mediums that include classical techniques from the Yale School of Art, the Chashama studio residency in NYC, and the BRIC Arts Media House in Brooklyn.  Each semester students can participate free of charge in bus field trips to premier museum and gallery exhibits both in NYC and Long Island.  Trips include the Armory Show in Manhattan and the Pollack Krasner House in East Hampton. The Art Club also does charitable work within the college community. Membership is open to all students of NCC.
The Asian American Club is an organization that serves to recognize and celebrate all Asian and Asian American cultures. The club acts as a resource for students and provides a place for social interaction for all students interested in learning about Asian culture and heritage. Our goal is to unify and strengthen the Asian American community within the Nassau Community College campus. The club is open to all interested students. Meetings are held on Thursdays at club hour (11:30 a.m. - 12:45 p.m.) in G-373. For more information, contact Prof. Judy Suh 516.572.7141, ext. 25530.
ASSOCIATION FOR COMPUTING MACHINERY
The Association for Computing Machinery is an organization committed to improving students' expertise in the area of computer science and computer information systems through seminars, support, and the dissemination of viable information. In addition, ACM brings together people involved in the computer sciences. Membership is open to any Nassau Community College student interested in learning computer skills and advancing his or her knowledge of both practical application and theory in the world of information science. Meetings are held on Tuesdays and Thursdays in B-227 from 11:30 a.m. to 12:30 p.m.
ASTRONOMY CLUB
The Astronomy Club is intended for students simply interested in the extraordinary realm of astronomy.  As members of our out-of-this-world organization, students will not only be able to run Nassau Community College's very own planetarium but also have the opportunity to discover more of what the universe has to offer through astronomy-related field trips. Past trips have included Suffolk County's Vanderbilt Planetarium and even the nationally renowned Hayden Planetarium of the American Museum of Natural History. When we aren't spending time outside of our club room exploring state-of-the-art technology, we are inside our planetarium portraying some of the millions of stars and constellations within our night sky. Our biggest event, Astronomy Night, happens to be one of the College's most awaited events, know for educating the public on various aspects relative to our solar system. Our event occurs once every semester and has been known for welcoming students, faculty, and anyone else interested in the science subject that club members have grown to enjoy. Interested? Then come join us in Cluster C's Room 309 every Tuesday and Thursday during club hour (11:30 a.m.-12:15 p.m.). If you have questions, feel free to contact our advisor, Professor Joel Lamb (joel.lamb@ncc.edu).  Not to worry, no science background needed! 
The Biology Club consists of students interested in understanding the living world. It acts as a study support group for course work as well as offering lectures and field activities to further education in the natural sciences. It works to expand, encourage, and promote science. The Biology Club provides opportunities for students, faculty, and staff to connect with each other while contributing to, participating in, and learning about their world. It provides guidance and monitoring of students pursuing a career in the biological sciences and promotes involvement in college and community affairs. The club hopes to help students realize career goals, gain personal insight, and experience an environment permitting development of intellectual growth. For more information about meeting times and dates, please contact Prof. Denise Deal (Denise.Deal@ncc.edu).
BLACK AND HISPANIC LOST HISTORY CLUB
The Black and Hispanic Lost History Club brings the Bible to a new light. The Bible is the record, history, and photo album of Blacks and Hispanics. The Bible mentions twelve tribes of Israel, and the descendants today are as follows: Judah (American Blacks); Benjamin (West Indian Blacks); Levi (Haitians); Ephraim (Puerto Ricans); Manasseh (Cubans); Simeon (Dominicans); Zebulon (Mayans); Gad (North American Indians); Reuben (Seminole Indians); Asher (Incas);Issachar (Aztecs); and Naphtali (Argentina and Chile). In the Bible, you read about the prophets being men of color: Adam, Moses, Peter, even Jesus Christ. The BHLHC answers all topics according to the Bible. Our activities include studying the Bible and Apocrypha, with references to books, archaeology, and history. We watch films and take field trips. Our vision is to teach the truth to all students. Visit us in G-381 on Tuesday and Thursday during club hour (11:30 a.m.). If you cannot attend, email us at  Losthistoryclub@gmail.com.
The Botanical Club at Nassau Community College provides a forum for students to appreciate plants in natural and cultivated environments. The goal of the club is to provide opportunities for students to interact with experts in plant sciences and enhance their understanding of the latest developments in this field. The club also organizes field trips to local botanical gardens, natural preserves, and nurseries. We encourage members to conduct presentations and take part in debates about organic gardening, genetically modified foods, and medicinal herbs. Membership is open to all NCC students. Students taking Biology courses are especially encouraged to join the club to benefit from field trips and guest lectures. For more information, contact the club's advisor, Dr. Kumkum Prabhakar, at 516.572.7575, ext.26532 or by email: Kumkum.Prabhakar@ncc.edu.
CARIBBEAN STUDENTS ORGANIZATION
CSO is one of the finest clubs on campus—literally! It is an opportunity for Caribbean students to interact with each other, thus expanding their cultural awareness. The club helps students become more aware of their Caribbean heritage through active discussions, the group's web site, and conferences with influential Caribbean personalities. CSO is the voice of the Caribbean students at Nassau Community College. The club is known for organizing entertaining and innovative fund-raising events to aid scholarships for students of Caribbean descent and active CSO members. Recent events have included Caribbean food festivals, domino tournaments, soccer tournaments, fashion shows, cultural programs, and festive dinner-dances.
The club is active not only on campus but off campus as well. We have participated in clothing, food, and toy drives to benefit needy families. If you're interested in joining this exciting and educational club, please join us at our club hour meetings (11:30 a.m. -12:45 p.m.) on Tuesdays and Thursdays in Room G-301 or drop by our office in the College Center Building (Rm. 325). Also, you can e-mail CSO with any ideas or comments at cso_ncc@hotmail.com.
The Chamber Chorus Club is a performing organization of 25-30 singers who rehearse and perform all styles of choral music. Membership is open to all students by audition. Auditions are usually held during the first week of each semester. The Chamber Chorus Club also endeavors to further the choral art through the presentation of professional choirs in concert at NCC, as well as through workshops with NCC choral organizations and choral groups from other schools.
The Communications Club aims to build community among students interested in the field of Communications. The concept of the Communications Club arose from students' need to apply the teachings in their classes to workplace situations, but has evolved to include social activities and fundraising opportunities as well. As members of the Communications Club, students have the opportunity to explore the field of communications through student-created activities, which they learn how to plan and execute. The membership consists of students interested in advertising, public relations, radio and television, and other related fields from all across campus. As a group, the students who are a part of the club have designed activities around these areas of interest. For example, we have had guest speakers from the fields of public relations, radio broadcasting, linguistics, communication disorders and more. In addition, the club has hosted a consultant for resume writing and interviewing strategies, sponsored panel discussions of professionals who have worked in the field, and analyzed film for discussion sessions.
A main objective of the group is to get members involved with community service. Since the spring 2004 semester, the Communications Club has been involved with the Nassau Community College mentorship program with the Liberty Partnership and most recently with GEAR UP, a program in which students prepare middle school and high school students for college life. If you are interested in the Communications Club, please contact Prof. Laura O'Connell at laura.oconnell@ncc.edu or call 516.572.7170, ext. 25416.
The purpose of the Computer Graphics Club is to offer graphic design services while giving Nassau Community College students the opportunity to better their skills and gain real life experience in the computer graphics field. All NCC students enrolled in the current fall or spring semester are eligible to join. The Computer Graphics Club meets every Thursday during club hour (11:30 a.m. - 12:45 p.m.) in G-C45.
The Concrete Canoe Racing team is comprised of a group of students and faculty who design, build, and race canoes of concrete and steel. The concept began at the University of Illinois in the 1970s. While the project began to demonstrate Archimedes' Principles to civil engineering students, it has expanded at Nassau Community College to include students from across the disciplines. During the fall, winter, and spring semesters, the club constructs the canoe; it then travels to a participating colleges to compete in the races. Some of the colleges include West Point, Cornell, Dartmouth, Penn State, and Johns Hopkins. The races consist of men's, women's, co-ed, and faculty teams, and are usually attended by six to ten other college teams.
In addition, club members participate in summer canoe/camping excursions to promote camaraderie among students and faculty. No experience is needed in camping, canoeing, or canoe building. There are many areas within the club to help, whether they are mechanical, technical, or administrative. Regardless of your interests or skill, we can help you develop it further. For more information, contact Prof. Frank Frisenda at 516.572.7272, ext. 26369 (office: D-2086); frank.frisenda@ncc.edu.
The Creative Writing Club holds workshops for students interested in writing fiction and poetry. We are also responsible for the publication of the literary magazine Luna, which is a collection of student and faculty creative works: poetry, short stories, brief plays, photographs, and art. It is our hope that in joining us you will contribute to the production of the magazine. Those who join will also benefit from the experience of submitting work, editing and publishing, and having their voices heard. Meetings are in Building G, Rm. 121. You may also contact us at NCCLuna2014@gmail.com or contact Prof. Matthew Rotando in the English Department.
The Criminal Justice Society is among the oldest and most active organizations on campus. Our major goal is to introduce students to the many branches, functions, and job opportunities within the criminal justice system. We do this by inviting members of the criminal justice system to speak to our Society. In the past, judges, prosecutors, defense attorneys, court officers, police officers, K-9 police and their dog partners, special agents of the F.B.I., Secret Service agents, and bail bondsmen have addressed our Society. We also travel around the country to criminal justice and law enforcement conferences, including our annual Washington, D.C. F.B.I./Secret Service/Pentagon/C.I.A. Conference and our annual New York State Trooper/State Crime Lab Conference. Membership is open to criminal justice majors, students interested in becoming a criminal justice major, or any NCC students interested in learning something about our criminal justice system that touches everyone nearly every day. Officer meetings are held on Tuesdays, and guest speakers address the Society on Thursdays in the Moot Court Room (G-159) next to the Criminal Justice Department. All are welcome. For information, contact our advisor, Prof. Robert Hodge, at 516.572.7179, ext. 25209; hodger@ncc.edu.
The Design Innovators Club welcomes all students interested in fashion. Annual activities include the NCC Breast Cancer Awareness Walk and Sale, industry guest speakers and creative learning workshops as well as field trips to New York City. Club field trips include visits to fashion exhibits, industry trade shows, major retailers, and specialty boutiques. Fund-raising events are structured to promote creativity and foster career development. For further information, please contact the club advisors, Prof. Heidi O'Connell or Prof. Joe Pescatore, at Facebook—NCC Design Innovators' Club
EARTH SCIENCE FIELD AND RESEARCH CLUB
The Earth Science Field and Research Club offers students the opportunity to discover, experience, and enjoy all aspects of physical and environmental sciences. Through learning experiences in and out of the classroom, guest speakers, special presentations, field trips, and research projects, we bring students, staff, and faculty together to foster a sense of community and global stewardship of the planet. Our meetings provide a means of social interaction for students in a relaxed atmosphere, where we discuss topics such as natural disasters, ocean science and exploration, planetary geology, the local environment, coastal issues—and more. Our guest speakers range from students conducting independent research to esteemed scientists and community leaders to our very own professors. We have been asked to conduct research in such diverse locations as the Hempstead Plains and coastal Florida. We welcome all to our meetings, to our club, to our celebrations, and to our Department of Physical Sciences. We meet every Tuesday and some Thursdays during club hour (11:30 a.m.) in Building C, Rm. 214. For more information, contact our faculty advisor, Prof. Thissen, at 516.572.7278, ext. 26311, or stop by her office, D-3102. Hope to see you there.
The Engineering Society is one of the oldest organizations on campus. Our goal is to introduce students to the diversity of branches within the engineering field and to give engineering students ideas about the kinds of four-year institutions that they should choose when transferring. We do this by inviting faculty advisors from many other colleges and universities to tell us about their engineering programs. We have been inviting these faculty advisors from both local and upstate institutions. These meetings are usually held in Cluster D. Among our other activities is a campus-wide blood drive, in which we invite members of the campus community to donate blood. Once in a while, we hold barbecues during the club hours in the back of Cluster D. We invite all students to join us. Don't worry if you are not an engineering major. You can join us and get some valuable experience. For more information about the Engineering Society, contact our advisor, Prof. Chris Zebuda, in the Department of Engineering/Physics/Technology.
The mission of the Entrepreneur's Club is to promote and facilitate the advancement of entrepreneurial skills. Our desire is to provide a platform for interested students to launch their ideas and develop start-up companies while fostering a favorable educational environment. We believe that by using your talents to make a positive impact and leveraging all the resources at your disposal, you will create value and provide meaning for your target market. Through participation in the Entrepreneur's Club, you will discover what builds success, learn networking techniques, develop leadership abilities, and establish an entrepreneurial mindset. The Entrepreneur's Club welcomes all students interested in entrepreneurial activities, networking, travel, and a career as a business professiona1. Our meetings take place at club hour (11:30 a.m.-12:45 p.m.) in B-319. The schedule of meetings is made at the beginning of each semester. For more information, contact the club's advisor, Prof. John DeSpagna, at 516.572.7544, ext. 26419.
The Environmental Club brings together like-minded students and faculty members who wish to preserve the world around us. Our mission is simple: to educate the public that everyone is an environmentalist to some degree because we all live within an environment. Things like clean air and beaches should not be taken for granted, but regarded as treasures. Our air and water quality affects our health and us directly, whether we realize it or not. Many of our club activities focus on lobbying politicians to protect our parks and coastline. We also raise awareness on local and national environmental issues. Other activities include recycling projects, wildlife and habitat restoration, river cleanups, and campus presentations. We are always looking for active and dedicated environmentalists. Anyone with an open mind, a desire to learn and a commitment to protecting nature is welcome to explore the many benefits our club offers. For more information, contact our faculty advisors, Dr. David Stern, at 516.572.7278, ext. 26302 or David.Stern@ncc.edu or Prof. Susan Beganskas, 516.572-7588, ext. 26671 or Susan.Beganskas@ncc.edu.
The Evening Music Students Club is comprised of students registered for Concert Band (MUS 113/114) and/or Orchestra (MUS 109/110). The main activity is attendance at rehearsals to prepare for semi-annual concerts. We also occasionally perform at area nursing homes and senior citizen centers and similar public service venues. We sponsor social activities and bring guest artists to perform with the two ensembles. The first meeting of the ensembles will be the first Tuesday and Monday of the evening schedule. Meetings are held in Q-105 at 7 p.m. on those nights. Prof. Harry Marenstein, a member of the Music Department, is the faculty advisor.
The Filipino Cultural Society offers members opportunities to meet students from the Philippines or from Filipino backgrounds. The group sponsors guest speakers, field trips, and social activities. It also helps members become familiar with campus resources that will enhance their experience at NCC. Look for flyers around campus and announcements in the campus newspaper about upcoming meetings, which are held during club hours. If you have questions, contact the advisor, Dr. Evangeline Manjares, at 516.572.9775, ext. 24940.
The Firefighting Robot Club offers members opportunities to design and construct a robot that will be used to enter annual firefighting robot competitions. Robots are built to compete in a scale model house and to extinguish a candle that simulates a fire. Membership in the club is open to all NCC students.
The Fit For Life Club invites all students to join in a fun and educational journey to fitness and healthy living. We provide information about free exercise classes offered at NCC. The club meets during club hour (11:30 a.m.) for presentations about nutrition and wellness given by professionals and experts in the field. We also plan field trips to sports events and tournaments. Be first to find out about possible sport scholarships and internships. For scheduled events and further information, please contact club advisers Ida Klikovac (Ida.Klikovac@ncc.edu) and Susan Mitchell (Susan.Mitchell@ncc.edu).
How would you like to taste a little French culture? Well, the Francophone Club offers this and plenty more. Members have the opportunity to learn about and appreciate French culture. In the Francophone Club, one can see movies, go to the theater, visit restaurants, and listen to guest speakers.You think that because you don't speak French you can't belong to the Francophone Club? That is not a problem. All meetings are held in English and French, and you don't have to be registered for a French class to be a member. So what are you waiting for? Join the Francophone Club and "VIVE LA DIFFERENCE!!!!"
Explore the science and art of teaching. The Future Teachers Club is open to all Nassau Community College students who are interested in pursuing a career on any level of teaching. The club offers members the opportunity to learn with and from other students with similar career goals. Our meetings provide a forum where students can learn more about the profession of teaching and discuss issues of concern in education through workshops, lectures, and field trips. We meet five to ten times each semester on Tuesdays and Thursdays during club hour in Cluster B, Rm. 131. A schedule of meetings can be found inside B-3028. For more information about the club, contact the club's advisor: Joseph Bernat (Joseph.Bernat@ncc.edu).
Need not be Irish to Join! If singing, dancing, and eating is your idea of a fun time, then the Gaelic Society has a place for you. The Gaelic Society meets once a week to encourage knowledge of all things Irish and promote understanding of Irish culture and civilization. Members attend musical concerts, watch videos, hear expert guest speakers (e.g. Irish DJ Kevin Westley), visit restaurants, march in St. Patrick's Day parades, enjoy ceilis and craic, share their heritage, and in general, enjoy each other's company. We welcome ALL NCC students and we are looking forward to meeting you. For further information, leave your name and email address in the club's mailbox located in the Student Activities Office, College Center, Rm. 150. Dr. Marynita Anderson is the club's advisor (G-234; 516.572.7422, ext. 25173; GaelicClubNCC@gmail.com; fb.me/GaelicClubNCC; @GaelicClubNCC).
The goal of the Gospel Choir is not only to acquaint members with different genres of gospel music but to teach each member about Jesus Christ. Although we do not push our beliefs on members, we do pray and believe that each one will accept Him as their Lord and Savior. We are a group of individuals coming together as one to create a beautiful sound that will reach "us" as well as our audience. We sing at local churches, different events, and other college campuses.
During club hour we have Bible discussions as well as discussions on everyday life. We have movie nights, open mics, and an end-of-the-semester concert where we invite other colleges and choirs to sing. This is also a night where many can and will give their lives to Christ. Before or during Christmas vacation, we bring gifts to shelters, and during the week of Valentine's Day, we go to domestic violence shelters and sing songs of God's love to battered women and their children. As you can see, the Gospel Choir isn't just a club—it's a ministry. We laugh, we sing, we minister, and we invite you to share your love for God with us. We meet every Tuesday and Thursday at club hour (11:30 a.m.) in the Z building, Rm. 101. We hope to see you. Be blessed!
Welcome to the Haitian Students Organization! We strive to promote the Haitian culture at NCC and also throughout the community in New York. The club sponsors speakers, trips, and social events to allow Haitian students and non-Haitian students to learn, enjoy, and be proud of the folklore, culture, food, and language. Unity within the Haitian community is very important. So become involved, expose your talents, and spread our beautiful culture! All are welcome to join. Weekly meetings will be held Thursdays during club hour (11:30 a.m.-12:45 p.m.) in G-251. "L' Union Fait La Force."
Haraya sponsors a variety of activities and events that focus on the African American experience and Africans in the diaspora. Annual programs such as Kwanzaa and Black History Month provide opportunities for students to plan and present programs geared to their ideas and talents. Speakers, conferences, trips, concerts, and fashion and talent shows are examples of the programs planned by students each year. Forums, advocacy, and scholarship fund raisers are ongoing projects. The organization builds leadership skills and provides opportunities for students to hone these skills on campus and in the community. Membership is open to all students who are interested in campus leadership, academic achievement, cultural enrichment, and community service. Established circa 1965, Haraya has had a long, distinguished history and tradition of excellence in service to students of NCC. We welcome you to join us as we create new visions and new realities.
HEALTH INFORMATION TECHNOLOGY CLUB
The Health Information Technology (HIT) Club welcomes all students interested in the fields of health information technology, medical coding, or medical administration. Our goal is to broaden students' knowledge and understanding of these dynamic career fields, create friendships, and encourage networking among members. Meetings take place in the Administrative Business Technology Department, A Cluster classrooms. For more information, contact our faculty advisor, Professor Susan Goldson, HIT Program Director, at susan.goldson@ncc.edu, or at 516.572.7288. Meetings will be announced.
HEALTH, PHYSICAL EDUCATION, AND RECREATION MAJORS CLUB
The Health, Physical Education, and Recreation (HPER) Majors Club encourages all students considering a career in health, physical education, recreation, dance, or related fields to attend our upcoming meetings. Our main objective is to expose our members to various elements of their profession and to increase their awareness of what is happening in the profession. The Majors Club sponsors guest speakers and workshops on subjects ranging from starting a portfolio to preparing for future interviews. In addition, we share information regarding employment opportunities, professional memberships, and upcoming workshops and performances. The Majors Club participates in various health-related campus activities, such as the Purple Ribbon Campaign, which heightens students' awareness of domestic abuse. For more information, contact club advisors Profs. Kristine Abrams and Jessica Marra in the Physical Education Complex.
The Honors Club, an extension of the Honors Program at Nassau, supplements the Honors experience at the College. Through a variety of extra-curricular activities, such as field trips to museums and other places, community service projects, sponsorship of guest speakers, participation in regional conferences, and fund-raising, the club strives to enrich student life socially and academically. Outreach programs help develop organizational skills and encourage personal growth. Students do not have to be participants in the Honors program to join the Honors Club. For further information, contact Prof. Thomas Bruckner, director of the Honors Program, in Bradley Hall, Rm. 1, 516.572-7194.
The Hotel/Restaurant Club is represented by a group of serious students who are interested in fun, exciting experiences, and great memories. The club plans overnight trips, hosts a Halloween dance, and takes trips to the Culinary Institute of America, East End wineries, food service trade shows, and culinary exhibitions and tastings. In addition, we attend hotel/restaurant educational institutions for lectures and we sponsor an annual spring B-B-Q and an awards dinner social. Meetings take place on Thursdays in Building K, Rm. 6. For further information, please contact Prof. Chris Argento, R.D., at 516.572.7344, ext. 25085. We welcome ALL Nassau Community College students and encourage their involvement.
The Human Relations Society is dedicated to promoting better intercultural relations within American society and to enriching African American and other minority students' intellectual interests. Each of our activities, be it a history tour, a fund raiser, a political debate, a social function, a cultural trip, a talent show, or a film festival, is rooted in this objective. The club also participates in national historical conferences sponsored by the Black Studies Council, ASALH, the NAACP, and a host of other cultural organizations whose issues and achievements are of interest to our members. Past speakers have included Dr. Nathan Hare, the Rev. Calvin Butts, Dr. Lenora Fulani, and sister Rosa Parks. Our club meets on Tuesdays, during club hour (11:30 a.m.-12:45 p.m.), in Building G (second floor). Membership is open to all students. Join us and get involved. For more information, contact Prof. Marquita James, the club's advisor, in the History/Political Science/Geography Department; 516.572.7422, ext. 25178.
INTERACT(Students improving the quality of life on Long Island)
INTERACT is open to all Nassau Community College students. If you are interested in the field of social work, this is the club for you. Our goals are to work for social change and social justice and to raise awareness of human needs on Long Island. We adopt one or two agencies each year and work to fill some of their needs. Twice each year, we bring speakers to campus on large social issues, such as immigration, and more interpersonal matters, such as forgiveness. We attend conferences and have field trips. All in all, we have fun helping others while learning people and organizational skills to take into our careers. For further information, contact Dr. Nancy Barker or Dr. Vondora Wilson-Corzen in the Sociology, Anthropology, and Social Work Department; 516.572.7452.
The Interior Design Society at NCC is an official student chapter of the American Society of Interior Designers (ASID), as well as the Interior Design Student Council (IDSC). The Society's activities include fund-raising and philanthropy programs; participation in ASID and IDSC chapter events, seminars, workshops, programs, and competitions, all of which offer members opportunities to interact with professional designers and expand their knowledge of the professional aspects of interior design; and career days, events that offer an introduction to the many career options open to interior design students. Is interior design for you? It takes business smarts as well as talent to make it in today's design world. The Interior Design Society allows you to feed your hunger for design and prepare to launch your design career. Join us for a seriously rewarding experience. For further information, contact our faculty advisors, Profs. Rosanne Scarpelli and Susan Beganskas, at 516.572.7588.
INTERNATIONAL YOUTH FELLOWSHIP
The IYF (International Youth Fellowship) is a pan-youth organization established on Christianity by people from various walks of life who have deeply realized the problems of today's youth. Our ultimate goal is to help and guide youth to become future leaders. We believe that leaders have to have strong hearts and hope in their hearts. To achieve this goal, we have many kinds of activities to develop the world of the heart, such as mind lectures and Bible discoveries, as well as various domestic and international volunteer programs. Please contact our club to learn what it is all about and join us! We have a regular club meeting every Thursday in F-234 during club hour (11:30 a.m.).
INTERVARSITY CHRISTIAN FELLOWSHIP
We at InterVarsity Christian Fellowship welcome you to Nassau Community College. InterVarsity has been an integral part of NCC's college atmosphere for over thirty years. IVCF's membership encompasses students of different backgrounds, both ethnically and culturally. InterVarsity Christian Fellowship's vision is to see "students and faculty transformed, campuses renewed, and world-changers developed." We seek to engage the campus as a whole in all its diversity regardless of beliefs. We learn about the value of relationships not only with each other but with God and his son, Jesus Christ. Our fellowship meets on Thursdays during club hour (11:30 a.m.-12:45 p.m.) in Nassau Hall, Rm. 223. Meetings are open to any student or faculty member. Our office is located in the College Union, Rm. 302. For additional information, email us at ivcf.ncc@gmail.com or like us on Facebook.com/nassauIVCF. We are also on Twitter and Instagram as NCCIVCF.
INTRAMURAL AND RECREATIONAL SPORTS AND WELL-BEING PROGRAMS
Our program offers a comprehensive schedule of activities, competitive and recreational, for both men and women. Intramural sports provide an excellent avenue to meet new people, to compete, or to get (or stay) in shape. Each year Intramurals offers over thirty co-ed activities to meet the diverse interests of our College community. Intramural sports give everyone an opportunity to develop his or her social, emotional, and physical skills, as well as an opportunity to experience the uniqueness of sports competition. Most activities take place during club hour (Tuesdays and Thursdays, 11:30 a.m.-12:30 p.m.). Our club hour and afternoon fitness programs include yoga, zumba, and spin bike classes.
Twice a year we host walk/run find raisers. Intramural participants have raised thousands of dollars for worthy causes over the years. At the Springfest we hold our annual arm-wrestling championships. Stop by anytime to join our revolving offerings. Contact Susan F. Mitchell, director of Intramural Sports and coordinator of Well-Being Recreation Programs, in the Physical Education Complex, Rm. 245, by telephone (516.572.7684, ext. 26602) or email (Intramural.Sports@ncc.edu.)
Are you ready to join a club that's fun and exciting? Well, the Jamaica Vibes Club (JVC) is here for you. Our club enriches the college experience of students at Nassau Community College. We exhibit and promote areas of Jamaican culture, including dance, music, and theatre. Our secondary purpose is to share aspects of Jamaican Heritage with all students on campus. We meet on Thursdays at club hour (11:30 a.m.) in G-343. You may contact us at Jamaicavibesclub@yahoo.com. All are welcome to join the Vibes!
The Jazz Club invites anyone who plays jazz or is interested in learning about jazz to join our organization. We present at least one, and sometimes two, concerts per term, with performances by professionals who also conduct workshops for the students. Refreshments are usually served at these functions. We are currently interested in finding anyone with experience in jazz performance. Sometimes we play gigs on campus for other student and faculty groups. Contact the Jazz Club advisor, Prof. George Bouchard, at 516.572.8192, or the NCC Music Department office, at 516.572.7446, for more information.
The Jewish Student Organization (JSO) is proud to welcome you to Nassau Community College. We are dedicated to promoting fellowship within the community and beyond, as well as learning about what "being Jewish" really means. The group plans a variety of different social and cultural activities as well as theological exploration. Examples of JSO activities include club-sponsored trips, celebration of Jewish holidays, and philanthropic activities. The JSO is also a great way to meet new people on campus. Membership is open to all NCC students who are interested in fellowship and Jewish cultural enrichment, regardless of religious affiliation. We meet every Tuesday during club hour in B-321. For more information, contact club advisors Prof. L. Delitsky at 516.572.7383 ext.26828 or M. Zucker at 516.572.7383.
The Knit and Purl Club welcomes all students who would like to learn how to knit, improve their basic skills, or work on a project they have already started. Those who crochet are encouraged to join us as well.   We may occasionally meet at a craft or yarn store, so that club members can select yarn and needles for their projects. Many of the beautiful patterns that are seen in scarves, hats, or other knitted garments are made up of knit and purl stitches! A beginner project might be a simple scarf done in all knit stitches; a more advanced project might involve knitting in the round (using circular needles and double pointed needles), or combining knit and purl stitches to make patterns. Handouts for a variety of skills will be available, as well as information about knitting/yarn websites to visit, and you-tube videos that demonstrate knitting stitches. Individual help will also be available. Meetings will be on Tuesdays during club hour (11:30 a.m.). Additional meetings (such as trips to yarn stores or extra help with a project) can be arranged as needed. For more information, contact the club's faculty advisor, Prof. Helene Guttenberg-Menco, at 516.572.7241, ext. 25536 or Helene.Guttenberg-Menco@ncc.edu.
Lambda Epsilon Chi (LEX) is a national honor society club for students majoring in paralegal studies. The purpose of LEX is to recognize students who have demonstrated superior academic performance. Members participate in many paralegal events and are inducted at the Paralegal Program's end-of-year luncheon. It is an honor that can be listed on the student's resume. This club links our students with other students in paralegal programs across the country who have demonstrated academic excellence. To be eligible, a student must have completed at least two-thirds of the program requirements and maintained a GPA of 3.5 or higher. This wonderful achievement is recognized by colleges and employers as a distinguished accomplishment. There is a one-time membership fee required in order to join. Students who are inducted are presented with a certificate and a specially designed LEX pin at a formal ceremony. The faculty advisors are Prof. Sharon Feder and Adrienne Motel. They can be reached at 516.572.7626, ext. 26453, or email paralegal@ncc.edu.
L.E.A.P. stands for "Learn to Execute and Achieve Priorities." We have a dual mission: one, to better ourselves as students; the other, to connect to our community to become better citizens. We are a diverse organization that instills a sense of unity within our members. We advocate a team approach to help members get their lives organized and become familiar with resources to help them become better students. We also focus on outreach programs that mainly concentrate on fund raisers and/or charities that assist in the healing process for victims of domestic violence, the elderly, homeless teens, and children with cancer and other illnesses. We also are strong advocates for safe sex and AIDS awareness. Talent showcases, fashion shows, banquets, and marathons are some of the approaches we take to reach out and give back. Meetings are held on Thursday during club hour (11:30 a.m.-12:45 p.m.) in Nassau Hall, Rm. 224.
If you are interested in making a difference and really creating a life that counts for something, then please take this opportunity to join us on this giant L.E.A.P. for success! For more information, contact the club's advisor, Prof. Jean Miller, at 516.572.7464, ext. 5358 or Jean.Miller@ncc.edu, or stop by her office in Nassau Hall, Rm. 228.
The Make a Difference Club, sponsored by the Accounting and Business Administration Department, is dedicated to involving the entire NCC community in organizational volunteering and fund-raising activities. The club's mission is simple: to encourage student volunteerism and leadership on a local level for a variety of causes and social issues. Whether students are studying business, art, fashion, economics, social sciences, or the liberal arts, everyone is encouraged to join. Each member's skills and interests can be matched up to the need of local non-profits. The opportunities to help in our community are endless. Participation in the club can greatly benefit all members by increasing awareness of social issues and sharpening management and leadership skills. Other benefits are gained through improving the lives of others in the community and meeting other caring and involved students. Our objective is to connect students to organizations that speak to them no matter what the cause. Be the leader! Be the change! If you are interested in joining, please contact the club's advisor, Prof. Teubner, in A-3009; 516.572.7544, ext. 6408.
The Marketing Club's philosophy is to prepare students for their careers by having them participate in essential business and career enhancement activities—networking, event planning, fundraising, and attendance at special programs. The club's goal is to assist in the professional development of students and to expose them to marketing, public relations, advertising, and sales activities. We achieve our goals and have a great time also. The club welcomes Marketing majors and non-majors. For more information, please call Profs. Nancy Bloom or Patricia Lupino in the Marketing Department at 516.572.7588.
The Mathematics and Computer Club is an organization whose goals are to enhance the study of mathematics and computer science by sharing information in an informal non-classroom setting, and to broaden students' appreciation of how computers and mathematics are used in contemporary society and in related fields. The club sponsors field trips, mathematics and programming contests, and lectures by speakers from math and computer-oriented fields. We also hold an end of the semester party, so don't miss the fun! For more information about the club, contact the advisor, Prof. Re, in the Department of Mathematics, Computer Science, and Information Technology, B-3028; 516.572.7383.
MEDICAL LABORATORY TECHNOLOGY CLUB
The Medical Laboratory Technology Club is dedicated to promoting the field of Medical Technology and raising awareness about the important work laboratory technicians do. Because these professionals work "behind the scenes," few people know how critically important their job is. Club activities include social functions and educational activities. In April, the club celebrates National Medical Laboratory Professionals Week and hosts a major event to educate and enlighten the community. Anyone interested in learning more about this profession is welcome to join. For further information, contact the club advisors, Profs.DeFeo or Lucca, at 516.572.9640.
The Meteorology/Weather Club is an organization for students with an interest in meteorology and the constantly changing weather around them. Activities include holding bi-monthly meetings throughout the semester and maintaining the Nassau Community College Weather Center located on the third floor of Cluster C (C-309A; 516.572.7724). The club also takes frequent trips to television studios, museums, and weather stations, including the National Weather Service Forecast Office at the Brookhaven National Laboratory in Upton, N.Y. The club also sponsors two contests each academic year. In the fall, NCC students try to guess when (date and time) the first one inch of snow will fall in NYC. In the spring, we sponsor a contest to see who can guess when (date and time) Nassau County will experience its first official severe thunderstorm warning of the year.
Students look forward to attending the annual Northeastern Storm Conference each spring as well. Here students meet professionals in the field of meteorology and its related sciences, as well as faculty and students from four-year schools that offer degrees in meteorology. Membership is open to anyone who enjoys experiencing and learning about the different weather phenomena in the atmosphere as well as those who want to have a career in meteorology or its related sciences. Future activities include (but are not limited to) 1) setting up the College's own local climatic data base, which would be available to the whole world via the Internet; and 2) possibly chasing severe thunderstorms. Profs. Greg Lehenbauer and Lisa Bastiaans of the Physical Sciences Department are the faculty advisors. For more information, please email them at MetClub@ncc.edu or contact Prof. Bastiaans at 516.572.7278, ext. 26313.
The Mom's Club of NCC welcomes students who are parents or parents-to-be. We are here to connect with other parents who are students, to support each other, to learn how to manage the demands of our busy lives, and to discover the skills and resources we need to create a better life for ourselves and our children. Throughout the semester we discuss topics such as keeping up with school with children around, managing behavior problems, eating right, managing time, and finding time for yourself. We will go on field trips to local family-friendly places like the Children's Museum and local parks. For more information about the club, please contact one of the club's advisors: Dr. Beth Goering at 516.572.7458, ext. 28024 or Prof. Molly Ludmar at 516.572.7127. Please come join us whenever your busy schedule permits! We meet every Thursday at 11:30 a.m. in Building G, Rm, 335.
The primary purpose of the Mortuary Science Club is to augment the Mortuary Science curriculum with a social program for the students. The club attempts to prepare students for the role of funeral director by providing interaction with licensed funeral directors as well as organizations in the community. This is accomplished by fund raisers and toy and food drives. The collected items are then distributed to various groups within our community. The club is open to Nassau Community College students with a specific interest in the Mortuary Science Program. The club strives to bring together students to discuss the varied aspects of funeral service. Prof. Michael Mastellone of the Mortuary Science Department is the faculty advisor. Interested students can call 516.572.7277. Meetings will be announced.
The Multi-Cultural Club is an organization that is for international students as well as American students interested in meeting with international students. The club organizes social events, field trips, and fund-raising events, has speakers of interest, and provides volunteer opportunities for humanitarian programs. The club meets Thursdays at club hour (11:30 a.m.-12:45 p.m.) in Nassau Hall, Rm. 218. Prof. Valerie Lagakis (Reading/Basic Education Dept.) and Mrs. Doreen Davis (assistant director, Financial Aid) are the club's faculty advisors. They can be reached at 516.572.7464, ext. 25357, or in Nassau Hall, Rm. 200.
The Museum Club visits a different museum each month in the metropolitan area. Our goal is to bring together students with similar interests in art, fashion, architecture, and history. If you love visiting museums, or if you have never been to a New York City museum, consider joining the Museum Club. We travel to the museums using public transportation to familiarize our members with various NYC neighborhoods. Plans are now being made to visit the Metropolitan Museum of Art, the Museum of National History, the Guggenheim, the Brooklyn Museum of Art, the Cloisters, and art galleries in SoHo. Day and evening students from all majors are welcome to join. For our current schedule of events, contact the club advisors, Prof. Rona Casciola, 516.572.7588, ext. 26656, or Prof.Julie de la Lastra, 516.572.7588, ext. 26659.
The primary purpose of the Muslim Student Association is to strengthen the understanding of Islam among Muslims and non-Muslim students of Nassau Community College. The club (inshallah) holds charity drives, trips, and religious gatherings. It also holds Salat three to four times a day every weekday. This club is open to all members of Nassau Community College and strives to bring together individuals to discuss various aspects of Islam. Please join us during our club hour meetings on Tuesday and Thursday (11:30 a.m. - 12:45 p.m.). Assalam-a-laikum!
This is your chance to do exciting work with interesting and famous musicians and to gain valuable experience––all while having lots of fun. Recent shows have included Big Chocolate, Taking Back Sunday, Circa Survive, Amy Schumer, We Are the In Crowd, and many more! From start to finish, students run the show. Start off by joining our stage crew, lighting crew, event staff, hospitality staff, or publicity staff. Come to our meetings on Tuesdays and Thursdays at 11:30 a.m. and find out what we're all about. Our office is located in the College Center, Rm. 324. Our telephone number is 516.222.7073. Come up and see us sometime!
If you enjoy listening to music and would like to participate in and/or learn break dancing, stop by the gymnastics room, the wrestling room, or the dance room, located in the lower level of the Physical Education Complex. The NCC Breakers meet every Tuesday and Thursday during club hour (11:30 a.m.-12:45 p.m.). Beginners, pros, and observers are welcome.
The NCC Idol Club wants to find a singing sensation on campus every semester! Students who want to perform and students who want to get involved behind the scenes are needed. Club members organize, promote, and run auditions. The club holds several auditions every semester, followed by one end-of-the-semester competition for finalists. Audition dates are announced at the beginning of every semester at the Activities Fair. The competition is open to full- and part-time students who are currently registered at NCC. Finalists are required to provide their own tracks (or bring their own accompanist) for the final competition. Singers must limit their vocal selections to ballads only. Prizes are awarded to finalists. For more information about the NCC Idol Club, contact the faculty advisors, Profs. Laurie Joseph at 516.572.7132, Earl Hudgins at 516.572.7148, Nedra Neal at 516.572.7446, or Gail Cavallo at 516.572.7446.
Step Team! Are you ready? Stepping is not just about stomping around and making a beat with your feet. Our step team expresses our creativity and establishes team unity and friendship. All of our routines are 100% original and performed with precision, heart, and attitude. We strive to make exciting and unique moves that are "fresh to def" and that will represent NCC. All students who want to join are welcome! Practices are held Tuesdays and Thursdays at club hour (11:30 a.m.-12:30 p.m.) in Racquetball room #1 of the Physical Education Complex. Additional practices are held for upcoming performances or events. Our faculty advisor is Earl Hudgins. For more information about becoming a part of the NCC Step Team, stop by the Student Activities Office (College Center, Rm. 150) and leave your information in our mailbox. We will get back to you.
NCC URBAN HIP HOP DANCE CLUB
The main purpose of the NCC Urban Dance Club is to bring together students who share a love for dance in the Hip Hop genre. The club strives to create a safe and free environment on campus for students to display their talents and to meet other students with the same interest. Members have fun learning and enhancing their skills while enjoying their passion for dance. For more information, contact the club's advisor, Donna Schneider, at 516.572.7522 or Donna.Schneider@ncc.edu.
NEW YORK PUBLIC INTEREST RESEARCH GROUP (NYPIRG)
NYPIRG (New York Public Interest Research Group) is the state's largest student-directed, nonpartisan, advocacy organization active on 21 college and university campuses across New York State. Here at Nassau, NYPIRG students work on issues such as higher education funding, environmental preservation, homeless outreach, voter empowerment, clean air and energy, consumer protection, and government reform. On-campus internships and winter break and summer jobs are available. Students at NYPIRG work with full-time staff to develop public speaking, research, and writing skills. Stop by the office in the Old College Union, Rms. 305-6, or give us a call at 516.222-0086.
The Newman Club (formerly known as the Catholic Club) is a community of Catholic Christian young adults whose purpose is to live our faith, promote community service, and have fun! We invite you to help us build a Catholic Christian community with other young adults through programs and relationships that promote openness, trust, honesty, and cooperation, and that create a climate where students can develop friendships with one another while living out the good news of Jesus Christ in their daily lives. The Newman Club strives to organize events that will bring members of the campus community together for fellowship, socializing, education, service, and prayer. Our weekly meetings include a variety of guest speakers, faith sharing, and studies of the rich tradition of the Catholic faith. We also have retreats and do volunteer work within the community. We meet every Thursday during club hour (11:30 a.m. -12:45 p.m.) in Rm. 300 of the College Union Building.
If you are looking to share your faith, make new friends, serve the community, and have a great time, the Newman Club is for you! Stop by the Campus Catholic Parish Office (Rm. 300 in the College Union Bldg.), email Marynita.Anderson@ncc.edu or scarinf@ncc.edu, or call 516.572.7422, ext. 25173. God bless you!
The Nursing Club is composed of all nursing students who are preparing to enter the profession of nursing. The club sponsors activities throughout the year, which include the Nursing Orientation Workshop, freshman pizza party, and programs to help students prepare for the job market and nursing/licensure exam (NCLEX). Activities include both social and educational topics that all are encouraged to participate in. During the semester students contribute both their time and their effort to fund-raising activities, which provide money to be used for the biannual Pinning Ceremony, as well as other events. Past activities have included bake and sweatshirt sales, and attendance at the National Student Nurses Convention and continuing education programs. The Nursing Club officers and the Pinning Committee officers change each semester. Their names as well as the faculty advisors may be obtained from the Nursing Department office in the Life Science Building, Rm. 319.
The Orientation Service Group's main goal is to assist freshmen in their transition from high school to college. We inform students about various services and programs on campus designed to enhance academic and social success. Campus tours, information packets and brochures, and peer counseling are all available in the office located in the College Center, Rm. 317. If you have any questions or concerns, please call 516.227-2670.
The Outing Club goes hiking, camping, canoeing, walking, cross-country skiing, snowshoeing, and more. All are welcome to our activities, which take place on the weekends. Planning meetings are held during club hour in the College Union, Rm. 304; watch the Vignette and the bulletin boards for information or call our faculty advisors, Prof. Wade and Prof. Tuaillon, at 516.572.7575 ext. 26515. See us at the Activities Fair or come to our first meeting and sign up for the Intercollegiate Outing Club Association canoe-camping trip to Lake George on the last weekend in September. Look up our activities on our website: www.nccouting.org
The Paralegal Society is a student club whose primary purpose is to supplement the Paralegal Program with social and law-related activities. Our club offers members opportunities to develop friendships and to get to know other students with the same interests. The activities, events, field trips, and lectures also help to better prepare paralegal students for a career in the law and to enhance their education. Our events and activities include field trips to various trial and appellate courts; guest speakers, who discuss how to get jobs and what it is like to practice law in certain areas; resume and interview workshops; alumni nights, where former students come back to explain their work and to discuss what coursework was most helpful; and moot court competitions, where students practice their hard-earned legal skills researching the law, writing briefs, and arguing a hypothetical case before a panel of judges and a large audience. These are just a few of the many activities that the Paralegal Society has to offer.
Whether you are earning your associate's degree, are pursuing a certificate in Paralegal Studies, want to learn more about the law, or perhaps want to go to law school one day, this is the club for you. Come join us! Get involved! Make your time at NCC more enjoyable! For more information, come to one of our meetings or contact the Paralegal Program office at 516.572.7626, ext. 26459. We look forward to meeting all of you.
PEACEWORK
PeaceWork, a student group that explores alternatives to violence, is open to everyone, including faculty and staff, on campus. Started in 2002 as a support group for students in the post-9/11 era, the club has met every week since then and engaged in peace-related activities. Its vigils and demonstrations as well as discussions of peace and justice issues have given it a unique presence on campus. Please join us at our meetings on Thursdays at club hour (11:30 a.m. - 12:45 p.m.) in Building G, Rm. 375. For more information, contact the club advisor, Dr. Ralph Nazareth, at 516.572.7185, ext. 25647.
PHI THETA KAPPA OMICRON SIGMA
(DAY CHAPTER)
Phi Theta Kappa, the international honor society for two-year college students, extends invitations once a semester to students who demonstrate academic excellence. To be eligible for membership in the day chapter, a student must
1. have a cumulative grade-point average of 3.5;
2. have no more than two withdrawal (W) grades; and
3.  be a day student.

Onetime membership dues are required. Full-time students must complete a minimum of 12 credits. Part-time day students must complete a minimum of 15 credits. Many scholarships to four-year colleges are available to Phi Theta Kappa members, especially those who are active in chapter activities. The chapter centers its activities around the four hallmarks of this society: scholarship, leadership, community service, and fellowship. Chapter meetings are held at club hour (11:30 a.m.) on Thursdays and are announced by mail at the beginning of each semester. For additional information please call Phylis Sherman at 516-572-7626, ext. 26459.
PHI THETA KAPPA PSI OMICRON
(EVENING CHAPTER)
Phi Theta Kappa International Honor society, with more than 900 chapters in the United States and abroad, is the only internationally acclaimed honor society serving two-year colleges. Academic excellence is the hallmark of Phi Theta Kappa and membership is extended by invitation only. To be eligible, a student must:
1. be an evening student;
2. have completed no less than 12 credits and no more than 52; and
3. establish a GPA of 3.5 or better.
A membership fee is also required. The faculty advisor to Psi Omicron is Prof. Maria Conzatti, Nassau Hall, Rm. 5, 516.572.7600.
PHILOSOPHY CLUB
The Philosophy Club at NCC is based primarily on one concept: thinking about the way we think. We meet on Tuesdays from 11:30 a.m.-12:45 p.m. in Nassau Hall, Rm. 224. During our meetings we have an open discussion on any philosophical topic that people bring with them, or any topic that comes to mind. We try, however, to stay with the chosen topic and feed off of each other's ideas to gain a better understanding of the specific topic at hand. There are no fees to be in this club and no requirements. You do not have to be a Philosophy major to join, nor do you have to know anything about Philosophy. So stop by and bring your unique perspective. If you have any questions or comments, email the club's advisor, Prof. Amanda Favia, Amanda.Favia@ncc.edu, or call 516.572.7450.
PHOTO CLUB
Students who join the Photo Club simply enjoy photography. They may be excited about taking photographs or exploring the art of photography itself. You do not have to be enrolled in one of the many photography courses at Nassau Community College to be a member of the Photo Club. Everyone with an interest in photography is welcome!
Each semester we hold biweekly meetings, usually on Tuesdays, during club hour (11:30 a.m.) in the Photography section of Building G. We invite guest photographers to address our group on a wide variety of topics, ranging from the fine art of photography to special techniques used by successful commercial studio photographers. Past guest lecturers have included photojournalists, fine art photographers, and representatives from photo programs at the School of Visual Arts and C.W. Post. Other activities include the design and production of Photography Club greeting cards, exhibits of members' work on campus, portfolio reviews of student work, and the viewing of photo-themed movies. Members of the Photo Club also go on field trips off campus to galleries and museums in New York City. For additional information, please call the Photo Office at 516.572.7166.
PHYSICAL THERAPIST ASSISTANT CLUB
The Physical Therapist Assistant Club welcomes all new members of the PTA Program. We invite first- and second- year students to join and be involved. The purpose of the club is to broaden students' knowledge and understanding of the physical therapist assistant field and bring together students with common goals. Club activities include community service, guest speakers, socials, and occasional field trips, all of which enhance academic experiences and promote the qualities of the profession. Opportunities for leadership are available. Meetings take place monthly in the PTA classrooms in Building E. For more information, contact our advisor, Prof. Grace Gilner, in the Allied Health Sciences Department (Cluster E, Rm. 2225), or call the PTA Lab at 516.572.6584.
POLITICAL SCIENCE CLUB
The Political Science Club seeks to foster a greater appreciation and knowledge of political events and issues at the local, regional, national, and international levels. It is a distinctly nonpartisan group with students from all demographic and ideological backgrounds. Debates, discussions, and information sharing are conducted at weekly scheduled meetings as well as on the highly popular email list serve that members may utilize at any time. Other activities include field trips to Albany and the United Nations, overnight trips to Washington, D.C., food and gift drives for community shelters and overseas military personnel, scheduled speakers from the academic and political spectrums, collaboration with other campus organizations with shared interests, and an annual dinner featuring an invited person of prominence form the political arena.  For more information, leave a message in the club's mailbox in the College Center, Rm. 150, or visit our table at the Activities Fair.
P.O.P. (POWER OF THE PEOPLE) RECORDS
Here's your chance to be involved with all aspects of a record company. If you are a music person, this is the place for you. From songwriting to publishing, you can find your place. There are field trips to New York City as well as visits to BMI for lessons and workshops. Also, put your talents to CD. We will produce a CD each year involving students and faculty. For more information, call Richard Ceballo in the College Center, Rm. 150; 516.572.7148.
PRIDE
PRIDE is NCC's lesbian, gay, bisexual, transgender, straight, and questioning student organization. Our group's main focus is to create a safe space for all! Additionally, PRIDE strives to educate the college at large about L.G.B.T. issues. Some of our club activities include having discussions, watching films, and sponsoring field trips and guest speakers. We meet every Tuesday and Thursday during club hour (11:30 a.m.) in Building G, Rm. 333. We are also available Monday to Friday in the College Union, Rm. 311. All are welcome! If you have any additional questions, comments, or concerns, feel free to email us at nccpride@gmail.com.
PROGRAMMING BOARD
The Programming Board provides a broad range of social, cultural, recreational, and educational programs, and encourages active student participation in the conception, planning, and delivery of programs and events. Given the wide range of students at Nassau Community College, the Programming Board is committed to developing leadership that reflects the diversity of the campus and to offering programs designed to appeal to a variety of students. To find out how to apply for a Programming Board position, contact the advisor, Prof. Calvin Andrew (516.572.7148), in the Office of Student Activities (College Center, Rm. 150), or call the Programming Board office (516.228.4916).
PSI BETA
The purpose of Psi Beta, the National Honor Society for students in psychology at two-year colleges, is to promote, stimulate, encourage, and recognize general scholarship and interest in psychology and to nurture, in general, academic excellence in all fields of study. Dr. Diana Milillo and Dr. Sidney Hochman are the Psi Beta advisors. If you are interested in discussing the honor society and its activities, please contact us at 516.572.7458. We are located in G-355. We welcome all new members.
PSYCHOLOGY CLUB
The Psychology Club, which is open to all students at Nassau Community College, provides a forum to discuss general issues in psychology through lectures and meetings with other students and psychology faculty. The club's goal is to encourage an interest in the field of psychology and related disciplines. Dr. Diana Milillo and Dr. Sidney Hochman are the Psychology Club advisors. If you are interested in discussing the club and its activities, please contact us at 516.572.7458. We are located in G-355. We welcome all new Nassau Community College students irrespective of their major area of study.
The "Rad-Tech" Club welcomes all new members in the X-Ray program. We invite students to participate in the club's agenda. Our activities include off-campus field trips, guest lectures, and demonstrations, all of which update and enhance the clinical and classroom academics. Meetings take place monthly and are held in the X-Ray Lab of E-118 (E Building). For more information, contact the faculty advisor, Prof. Lawrence Jacob, in the Allied Health Sciences Department in Building E.
RESPIRATORY CARE CLUB
The Respiratory Care Club is open to all NCC students. We welcome all new students who are interested in Respiratory Therapy. The objectives of our club are to promote the ethics and professionalism required of the career and to plan activities that will broaden students' understanding of this field. Types of activities include bake sales and guest speakers, as well as participation in Respiratory Care Week and Asthma Awareness workshops. Monthly meetings are held during club hour (11:30 a.m.); the location and date will be posted on flyers in Building E. For additional information, please call the Respiratory Lab office at 516.572.7560.
The Science Fiction/Fantasy Club at Nassau Community College is dedicated to bringing together students who are interested in the literature, science, and art associated with science fiction and fantasy. The genre of science fiction has played an important role in the development of cultures worldwide, found within the form of books, art, games, television, and film. We talk about science fiction in its various forms, engage in tournament play, and attend science fiction conventions, while at the same time meeting new people and making new friends. If you are interested in becoming a member, please visit us in the College Union, Rm. 314, every club hour (Tuesday and Thursday, 11:30 a.m.).
SENIOR OBSERVERS CLUB
The Senior Observers Club aims to enhance the NCC experience for all senior citizens taking part in the Senior Observer Program. It holds monthly meetings to hear speakers on subjects of general or specific interest to people who would choose school as a retirement activity, and to share information and experiences about selecting courses, minimizing the cost of textbooks, getting the most out of courses audited, and being a positive factor on the college campus. The club receives no funds from the College but has the full support of the NCC administration. Background information about the Senior Observers Club can be obtained from the club's long term website, www.geocities.com/nccsenior/club, which, among other things, provides links to the club's leaders. More immediate information can be obtained from the club's short term website, www.geocities.com/NCCSeniorObserversClub; from the Student Activities Office in the College Center (Rm. 150; 516.572.7148); from the notice atop the club's bookcase in the Student Activities Office; and from the club itself, which can be reached at NCCSeniorObserversClub@yahoo.com.
SKI CLUB
The Ski Club welcomes any student with an interest in skiing/snow boarding, from those who have never been on skis to those who are mogul bashing experts. The emphasis is on fun and learning. A typical Ski Club meeting might include a presentation on buying, renting, and maintaining equipment (waxing, sharpening, binding maintenance), ski videos, or discussions of upcoming trips. The Ski Club goes to local ski areas (Hunter, Windham, Jiminy Peak) for day trips.
SOCIETY OF WOMEN ENGINEERS
The Society of Women Engineers is a national organization whose mission is to encourage women to achieve full potential in careers as engineers and leaders; to expand the image of the engineering profession as a positive force in improving the quality of life; and to demonstrate the value of diversity. The chapter does not exclude men and in fact welcomes their participation. Meetings are usually held during club hour (11:30 a.m.). Students interested in this organization should contact Prof. Holly Giordano or Prof. Craig Capria at 516.572.7272.
SOUND RECORDING TECHNOLOGY CLUB
The Sound Recording Technology Club aims to give students a better understanding of the studio recording profession and the workings of the music business. The club holds regular meetings and sponsors guest lectures and other events. For more information, contact the Music Department at 516.572.7446.
SOUTH-ASIAN STUDENTS ASSOCIATION
Formerly known as the Desi Club, the South-Asian Students Association at Nassau Community College tries to bring cultural diversity to the campus by educating people about the cultures of Paskistan, India, and Bangladesh. It is a platform for all South-Asians to enjoy their cultural religious festivals while away from home. We arrange events and activities in collaboration with other clubs and organizations to give a global touch to student life at NCC. We arrange different cultural, religious, athletic, and social events every semester, and we welcome all to experience a taste of South-Asian culture.
SPEECH AND DEBATE TEAM
The Speech and Debate Team is open to all students enrolled in six or more credits. Students are trained and coached by a faculty advisor in public speaking, oral interpretation, and debate events. The team represents Nassau Community College at tournaments coast to coast. Students compete in events such as poetry reading, duo/duet acting, persuasive speaking, and debate. The team competes against other colleges from across the nation, leading up to the national championship tournament held at the end of each year. The Speech and Debate Team meets every Tuesday and Thursday during club hour (11:30 a.m.-12:45 p.m.) in Building H, Rm. 212. Contact the faculty advisor, Prof. Trent Webb (Building H, Rm. 212; 516.572.7170, ext. 25417), for more details.
STUDENT ADVOCATES FOR SEXUAL HEALTH (S.A.S.H.)
The goal of the Student Advocates for Sexual Health club (S.A.S.H.) is to promote sexual health initiatives. These initiatives are geared toward the NCC campus community and include risk reduction activities and promotion of safer sex behaviors. We are dedicated to raising awareness of HIV and STI prevention. We also encourage sensitivity to and empathy with those that are infected with (or affected by) HIV/AIDS and STI's. Our club helps to publicize the availability of free and low cost HIV and STI testing on campus to NCC students. Each year we help with the sponsorship of two major programs on campus. In the fall semester, our focus is on World AIDS Day activities, and in the spring, we work to coordinate AIDS and Sexual Health Awareness Day. Our members and club advisor are available year round to speak to any students who may have concerns or questions pertaining to their sexual health. Most students in the club have taken the HED 251 Human Sexuality course, but don't worry if you haven't—we will teach you what you need to know to be a S.A.S.H. member! For more information, please contact our advisor, Dr. Donna Bacon, at 516.572.7518, ext. 26621. Meetings are on Tuesdays at club hour (11:30 a.m.) in P-248.
STUDENT DIPLOMATS OF NCC
The Student Diplomats, also known as the International Society, was formed for students who have an interest in world affairs.  We seek to promote international studies and understanding of current events and try to visit the United Nations, non-government organizations, and other peacekeeping groups in the Northeast and Washington DC that promote peace and understanding between nations.  Some of our students pursue international study or exchange programs and we help obtain information about such programs.
STUDENT GOVERNMENT ASSOCIATION
The Student Government Association (SGA) serves as the general liaison between the student body and the College. SGA is also responsible for the establishment and recognition of all activities of the student body. Another responsibility of the SGA is to recommend to the Faculty-Student Association the acceptance or rejection of all budget requests made by any student organization recognized by the Student Government Association. In addition, SGA works on many projects throughout the year. These projects are geared towards enhancing student life on campus. Some examples are revising the sexual harassment policy and lobbying in Albany for increased funding for community colleges. Any student who is interested in serving the College community as well as learning about politics would benefit greatly from involvement in Student Government. Our office is located in the College Center, Rm. 341; (516.572.7225).
STUDENT ORGANIZATION OF LATINOS (S.O.L.)
The Student Organization of Latinos is dedicated to enhancing the quality of life of all its members, who are representatives of the Latino diaspora, as well as the entire population that makes up NCC. Our goal is to educate everyone, through a myriad of programs, about the diversity and richness that exists within our culture. We hope to challenge, surprise, educate, reward, and fascinate individuals as they examine their perceptions of Latino heritage. We feel that our organization, consisting of diverse cultures, is capable of boundless achievements beneficial to everyone. Through our efforts, we are certain that we will draw the Nassau campus community closer to appreciating and respecting diversity among all. We hold meetings in G-243 on Tuesdays and Thursdays during club hour (11:30 a.m.- 12:45 p.m.). If you have any questions, please call the S.O.L. advisor, Prof. Richard Ceballo, at 572-7148.
STUDENT VETERANS OF NASSAU (SVN)
The Student Veterans of Nassau (SVN) provides a supportive and positive environment for veterans through mentoring and assistance in their transition from military life to college life. The club also helps students plan and prepare for their long-term educational and personal goals. Currently, there are over 400 student veterans enrolled at Nassau Community College with more student veterans anticipated in years to come. Any Nassau Community College student or student veteran is eligible to join the group. SVN belongs to a national chapter, the Student Veterans of American (SVA), an organization that provides a healthy collaboration among veterans. For more information, drop by the Center for Veterans Affairs (Tower, Plaza Level) during club hours (11:30 a.m.); contact Dr. Evangeline Manjares (516.572.9775, ext. 24940) or Prof. Calvin Andrew (516.572.7148) or email the club at StudentveteransofNassau@gmail.com
SUPER-HIGHWAY CLUB
The Super-Highway Club is for students who are interested in the engineering aspect of computers. Rather than programming computers, we investigate and experiment with new and creative ways to implement current technology for applications of tomorrow. Such projects include enterprise networking design and parallel processing super-computers to basic web pages and computer assembly. Students from all backgrounds are welcome. No technological knowledge is required, though some is preferred. If you are interested in this growing organization, please call Prof. Lee at 516.572.7272, ext. 26367.
SURGICAL TECHNOLOGY CLUB
The Surgical Technology Club (S.T.C.) meets every Thursday in Building E, Rm. 309 from 11:30 a.m. -12:45 p.m. (club hour). After a short business meeting, a guest speaker is on the program. Topics include experiences of past graduates, opportunities for upward mobility, and various subjects related to surgical equipment or procedures. Club members are invited to attend professional workshops in the community as well as send representatives to the National Congress. Students interested in these activities are welcome to all Surgical Technology Club (S.T.C.) meetings. Notices are posted in Cluster E one week prior to meetings.
SUSTAINABILITY CLUB
The Sustainability Club brings issues of sustainable living to the NCC campus community.  The club is actively involved in maintaining the NCC organic garden and growing food for the Children's Greenhouse and local food pantries.  The Sustainability Club also plans campus-wide annual events around Food Day (October) and Earth Day (April). Furthermore, the club works to beautify the campus. The club meets twice a month on a Tuesday or Thursday (11:30 a.m.) in D-207. For more information, contact the faculty advisors: Nicole Simon (Engineering, Physics, Technology Department; Nicole.Simon@ncc.edu) and Birgit Woelker (Biology Department; Birgit.Woelker@ncc.edu).  
TABLETOP GAMING CLUB
The objectives of the Tabletop Gaming Club are to have fun and build a sense of community for those with the same interests.  We focus on taletop games, which are often strategic and great for the mind. They make us imagine, organize, and think ahead, while encouraging creativity and cooperation.  In addition, these games are very interactive and usually call for communication among players, which reinforces our ultimate goal of community.  Look for our table at the Activities Fair.
TISA (THE INTERNATIONAL STUDENTS ASSOCIATION)
TISA is a club that encourages cultural exchange between international students and American students at NCC. Each semester, through trips and other activities, students are encouraged to learn more about U.S. culture and cultures around the world. For more information about TISA, contact the Office of International Student Affairs (Life Sciences Building, Rm. 146); 516.572.7053. TISA welcomes both foreign and native students.
TRANSFER CLUB
The Transfer Club offers students an opportunity to explore transfer options through visits to four-year institutions, along with discussions regarding the transfer process with the club advisor. The club attempts to build networks between Nassau students and receiving institutions by designating an individual, or group if possible, to act as an initial contact at the four-year school, and to continue as a support resource throughout the transitional period of adjustment. When possible, the Transfer Club meets with other transfer clubs at four-year institutions to discuss problems and concerns students have when transferring to four-year schools. Membership is open to any Nassau Community College student willing to be an active participant. For further information on how to become a member of the Transfer Club, visit the Job Placement Office in Nassau Hall, Rm. 39, or call 516.572.7132.
TURKISH AMERICAN STUDENT ASSOCIATION
The Turkish American Student Association is an organization that aims to unite all Turkish and non-Turkish students. The purpose of this club is to improve the cultural, political, and social unity of Turkish and non-Turkish students. We also assist Turkish students who are experiencing culture shock and other difficulties adapting to academic life at NCC and in the United States. We strive to promote good relationships with other cultures and improve diversity on campus.
The Turkish American Student Association organizes various activities, such as social and fund-raising events, field trips, and mentoring services for ESL students. We welcome all new members and hope to see you at our meetings! For more information, contact the club's advisors: Jay Martin at 516.572.7383, ext. 26881; and Barbara Brady at 516.572.0165, ext. 26179.
Do you like to write? Are you interested in a career in journalism, public relations, advertising, photography, or publishing? Would you like to be involved in an organization that advocates for students' rights and interests? If you answered yes to even one of these questions, the Vignette staff would like to meet you! The Vignette, NCC's official campus newspaper, is a publication that's written, edited, and produced by students. It offers members opportunities to learn layout and design, acquire photography skills, gain experience in advertising and business, and—of course—become better writers. The newspaper also gives students the chance to express their views on important campus issues. If having your voice heard is important to you, the Vignette is the place to be.
The newspaper needs reporters, reviewers, photographers, designers, artists, and advertising staff for the upcoming year. No experience is necessary, though interest, enthusiasm, idealism, and a willingness to learn are definite assets. The staff meets on Tuesdays and Thursdays at club hour (11:30 a.m.) in its office in the College Center Building (Rm. 347; 516.222.7071). Please stop by and introduce yourself.
The Wall Street Club is a great club for students interested in learning how to be successful in the financial world. It acquaints students with financial institutions, opportunities on Wall Street, and monetary policy makers. We visit the Federal Reserve Board and International Monetary fund in Washington, D.C., socialize with like-minded people, and meet with professionals from financial and job markets. Overall, the Wall Street Club experience has limitless potential and benefits.
WOMEN STUDENTS ASSOCIATION/WOMEN'S RESOURCE CENTER
The Women Students Association offers students the opportunity to meet with women and men from diverse ethnic, religious, and social backgrounds who present a variety of political perspectives. We hold small group discussions that vary from the personal to the political. Additionally, the W.S.A. sponsors educational programs about issues of concern to women. Past programs have included discussions on interpersonal relationships, ethnic diversity and interracial issues, body image and nutrition, and human rights and reproductive freedom. We sponsor luncheons, poetry readings, and conversations with outstanding Nassau faculty. The group has invited important women writers to the campus. Some of our guests have been Alice Walker, Gwendolyn Brooks, Jean Kilbourne, Jamaica Kincaid, Katha Pollit, Naomi Wolf, and Kerry Cuomo.
The Women's Resource Center is a facility supported by the Department of Student Personnel Services. It provides reference material on health, legal, and social-political topics, current magazines, and recent fiction by important women writers. There is also a referral file of community agencies offering a wide range of support services. If you would like to exchange ideas with people of all ages on topics of importance to contemporary women, in a relaxed and pleasant setting, please contact Prof. Sara Hosey (516.572.7185, ext. 25614) or drop in at the Women's Center, located at the rear of the Career Counseling Center (Nassau Hall, Rm. 14). Call us at 516.572.7696.
WOMEN'S CRIMINAL JUSTICE ASSOCIATION
The Women's Criminal Justice Association provides an opportunity for female students to meet with female practitioners in the field of criminal justice with the aim of encouraging more women to enter this exciting field of study. The Association wishes to empower females to realize their capabilities, strengths, and leadership qualities, to reach their full potential, and to make an easy transition from college life to the work force in a traditionally male-oriented field. The Association encourages and welcomes male student involvement, which lends itself to a mutual acceptance of gender differences in law and law enforcement. Meetings are held on Tuesdays or Thursdays during club hour (11:30 a.m.-12:45 p.m.) and speakers from various law enforcement agencies are invited on a monthly basis. All are welcome. For information, please contact the Criminal Justice Department at 516.572.7179.
WRITER'S MENTOR CLUB
The Writer's Mentor Club is open to all students who are interested in the written word.  We meet twice a month. One meeting is reserved for talking about our own projects and during the other meeting, we host a published author. If you are interested, please contact Dr. Janet Farrell Leontiou of the Communications Department at Janet.Farrell-Leontiou@ncc.edu.
The following clubs are also active on campus. Look for them at the Activities Fair.

Associated General Contractors
Billiards Club
Flow Arts Club                                                                                                                                                                                                                     Journalism Club
Music Majors Club
NCC Student Film Club
Nassau Men's Rugby Club
Sigma Chi Eta
Society of Civil Engineers                                                                                                                                                                              Video & Filmmaker Network of NCC