College-Level Examinations (CLEP & DSST)
Effective Fall 2016 the Administrative Fee for the CLEP and DSST exams at NCC will be increasing to $50.
Spring 2017 CLEP & DSST Schedule

Additional dates may be added. All applications should be received 10 days before the exam.
Saturday, January 07, 2017

 9am

Wednesday, March 15, 2017

9am

Saturday, May 13, 2017

6pm

Saturday, December 03, 2016

 9am

Wednesday, December 21, 2016

9am

Saturday, January 07, 2017

 9am

Wednesday May 31, 2017

10am

Candidates should arrive 15 minutes early to any exam. Photo ID is required to test.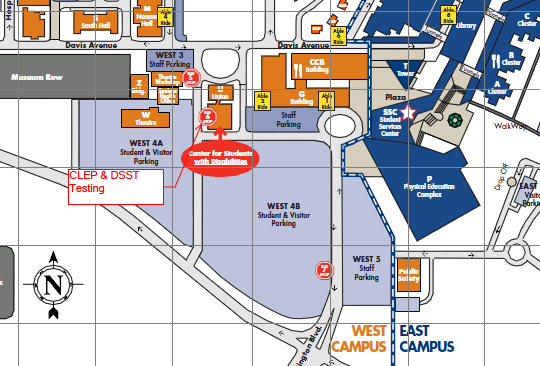 All CLEP and DSST testing will occur in Building U (former home of Placement Testing). Please use the West entrance to the Building, easily accessible from Hempstead Turnpike. Visitor and Student parking is available in West 4A and 4B
College-Level Examination Program (CLEP)
Sponsored by the College Board, CLEP offers the opportunity to receive college credit by earning qualifying scores on one or more of 33 exams in the disciplines of business, composition and literature, foreign language, history and social sciences, and science and mathematics. There are 2,900 colleges that grant credit and/or advanced standing for CLEP exams. 
Effective January 1st, 2014 candidates must create an account with The College Board.
DSST Exams
Formerly known as the DANTES Subject Standardized Tests, the DSST provides students the opportunity to receive college credit, with acceptable scores, as recommended by the American Council on Education, the 38 exams are offered in diverse subject areas such as health, ethics, finance and technology. DSSTs offer students a cost effective, time saving way to use their knowledge to accomplish their educational goals.
For more information please call 516.572.9947
For more information about CLEP exams visit the College Board website
For more information abut DSST exams visit the Prometric website
Test of Essential Academic Skills (TEAS)
The Test of Essential Academic Skills (TEAS) exam will be required for all incoming nursing program applicants. TEAS offers the College an additional standardized assessment tool to review applicant skill levels. Test results will be taken into consideration for admission. Candidates need to register, pay and schedule on-line with ATI. www.atitesting.com