Nassau Community College Nominated for Five Best of Long Island Awards
Vote Daily Through December 15, 2023
Garden City, NY – Nassau Community College, a campus of the State University of New York, has been nominated for five Best of Long Island Awards of 2024, sponsored by Bethpage Federal Credit Union and Schneps Media. Students, faculty, staff, alumni and friends can help Nassau receive top honors by voting once daily at https://www.bestoflongisland.com/voting through December 15, 2023 at 11:59 p.m. EST.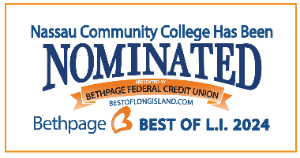 Education Category:
Best College or University: Nassau Community College
Best College President: Dr. Maria Conzatti
Best College Sports Program: Nassau Lions
Arts & Entertainment Category:
Best Art Gallery: Plaza Art Gallery
Best Radio Station: WHPC 90.3 FM
Vote for Nassau alumni and former students in the Arts and Entertainment Category:
Antoninette Biordi
Carol Silva
Antoninette Biordi
Eddie Murphy
Jim Breuer
About Nassau Community College
Founded in 1959, Nassau Community College, a campus of the State University of New York, provides a comprehensive public college experience that transforms lives through higher education. Serving 14,000 full-time, part-time and continuing education students, NCC offers more than 80 programs that lead to the associate's degree or certificate, as well a workforce development programs. Through on-campus and online offerings, the College educates local and international students, and boasts 162,000 alumni. Situated on 225 acres in Garden City, Long Island, the college grounds reside in historic Nassau County, one of the most desirable locations to live in the United States and an epicenter for business and careers. Since 1959, NCC has earned a nationwide reputation for academic excellence, affordability, and ease of transferability to four-year schools.
Media Contact: Lindsey Angioletti | lindsey.angioletti@ncc.edu | C: (516) 320-0695
ncc.edu/newsreleases
Ref:2272.9/29/23/web