Affordability First: NCC Freezes Tuition for
Academic Year 2023-24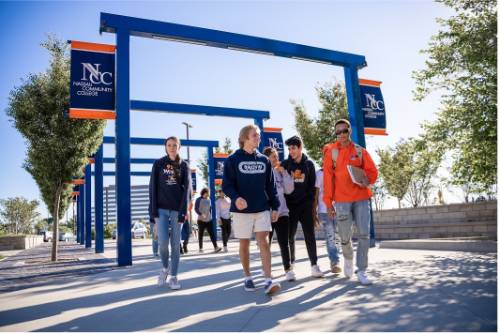 August 21, 2023, Garden City, NY —Nassau Community College of the State University of New York will hold tuition and fees at its current rate for the fourth consecutive year.
"At Nassau, we transform lives by providing a quality education, student-focused support and scholarship opportunities to help our students achieve their academic and professional goals," said Dr. Maria Conzatti '86, NCC's acting president. "The college has worked diligently to control costs and reduce financial burdens on our students. We are grateful to Nassau County and SUNY for their commitment to our mission to provide affordable opportunities for local residents to remain on Long Island for their college educations and careers."
New, continuing and transfer students are invited to apply and enroll for the fall semester, which begins September 1, 2023. Full-time Nassau County residents enrolled in 12 or more credits pay $2,900 per semester for tuition and $265 in fees. Part-time students pay $242 per credit, plus part-time fees. For eligible students, tuition may be further reduced by Pell and TAP grants and NCC Foundation scholarships. On- and off-campus jobs may be available for qualified students. Tuition rates will remain in effect throughout 2023-2024 academic year, including spring 2024 and summer 2024 semesters.
With its most recent graduating class in May 2023, Nassau Community College now has 162,000 alumni. "The college's alumni form the backbone of Nassau County's skilled workforce," said Nassau County Executive Bruce Blakeman. "I thank Acting President Conzatti and the leadership of the college for their steadfast commitment to student success. Every qualified resident should be empowered to attend our community college, to enrich their lives, and to build a brighter future for their families."
The college's NCC Foundation, a non-profit organization devoted to raising funds to benefit current students, continues to expand the range of scholarship offerings, including child care and emergency expenses for students who may need extra help to continue their paths to success. Last year, more than 600 students benefitted from academic achievement scholarships, free textbooks, bus fare, and food pantry items. Donors interesting in making a gift to benefit students may visit the Foundation website at ncc.edu/foundation or call 516-572-0670.
"With financial aid and scholarships, 53% of all full-time SUNY students attend tuition free, and 65% of community college students graduate with no federal student loan debt," said SUNY Chancellor John King. "People with college degrees over their lifetime can make more than 1.2 million dollars more than their peers who only have a high school diploma. I strongly believe in the power of public education. There is excellent value in getting a college degree, especially at a community college."
An affiliate campus of the State University of New York, the largest public university in the country, NCC offers associate degree programs in a broad range of fields that align with student demand and employment opportunities, as well as short-time certificate programs that help students enter professions in a year or less with state-of-the-art skills and knowledge. More than 5,000 students are enrolled in Liberal Arts programs (A.A. and A.S.) that provide a strong foundation for students looking to continue their education at the baccalaureate level.
More than 80 programs are offered in the areas of fine and performing arts, health care, human services and education, liberal arts and humanities, math, science and technology, professional studies, and social science at the Garden City college.
About Nassau Community College
Nassau Community College, a campus of the State University of New York, provides a comprehensive public college experience designed to transform lives through higher education. Serving 14,000 full-time, part-time and continuing education students, NCC offers more than 80 programs that lead to the associate's degree or certificate. Through on-campus and online offerings, the College educates local and international students, and boasts 160,000 alumni. Situated on 225 acres in Garden City, Long Island, the college grounds reside in historic Nassau County, one of the most desirable locations to live in the United States and an epicenter for business and careers. Since 1959, NCC has earned a nationwide reputation for academic excellence, affordability, and ease of transferability to four-year schools.
Media Contact: Lindsey Angioletti | lindsey.angioletti@ncc.edu | C: (516) 320-0695
ncc.edu/newsreleases
Ref:2262.8/21/23/web