SUNY Selects Nassau Community College Lions Lacrosse Andrew Tittmann SUNY 2022-2023 Scholar-Athlete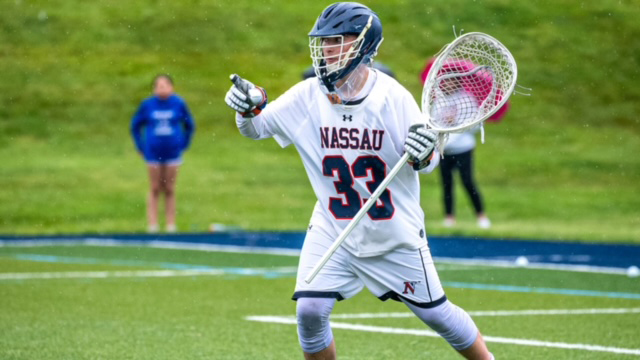 July 31, 2023, Garden City, NY
Nassau Community College Lions lacrosse player Andrew Tittmann '23 (East Northport, A.A. in Liberal Arts) was selected by the State University of New York (SUNY) as the NJCAA conference overall men's Scholar Athlete of the Year. The Tittmann family has a proven record of success at NCC as Tittmann's father is also a member of the NCC community, graduating with his A.A.S. in in Radiological Technology.
The SUNY Scholar Athlete Awards recognize outstanding academic and athletic success in 29 different sports and are presented three times a year to coincide with the specific sports contested in the fall, winter, and spring seasons. Individuals were nominated and voted upon by representatives of their respective institutions. Those put forward then had their academic and athletic achievements reviewed by a panel of athletic directors from across the SUNY system.
"Balancing education and athletics is no small feat. With a sheer determination to succeed, each of the student-athletes selected has achieved that balance and shown a commitment to their sport and their studies. I cannot stress enough the weight of the phrase 'student-athlete,'" said SUNY Chancellor King. "Each individual is a student first, and it is an honor for me and for SUNY to bestow this award to each of the student-athletes."
"It comes as no surprise that Andrew Tittmann has been selected as a SUNY scholar-athlete of the year. Since his recruiting process in high school, and during his two years as a student-athlete at Nassau, Andrew has been the consummate Nassau guy, in terms of work ethic, character, and integrity throughout his time with us," said Lion's Men's Lacrosse Coach John Savage. "His dedication to being a student, and making the most of his opportunity at Nassau, has garnered him entry into one of the most prestigious SUNY schools out there in SUNY Geneseo. We couldn't be prouder of Andrew, we are thrilled at his success, and we will very much miss his leadership within our program. Go Lions!"
Tittmann was named a NJCAA First Team All American back-to-back seasons (2023 and 2022) and was also named to the 2023 and 2022 NJCAA Championship All-Tournament Teams. Andrew was Nassau Community College's (NCC) starting goalkeeper for the past two years and he led NCC to the 2022 National Championship and NJCAA Runner Up (second in the country) in 2023. This season Tittmann played in 12 games, and he had a 65.4 save percentage and an 81.8-win percentage with 119 saves. He was first in the country in goals against average and overall record (9-2) and played one of the most challenging schedules in the country. Tittmann is a liberal arts major with a 3.75 overall GPA.
Recent NCC SUNY Scholar Athlete Awards winners include Khristan Hernandez (Football) from Piscataway, NJ for Fall 2022 and for Winter 2022 Joseph Russo (Wrestling) from Wantagh, NY.
About Nassau Community College
Nassau Community College, a campus of the State University of New York, provides a comprehensive public college experience designed to transform lives through higher education. Serving 14,000 full-time, part-time and continuing education students, NCC offers more than 80 programs that lead to the associate's degree or certificate. Through on-campus and online offerings, the College educates local and international students, and boasts 160,000 alumni. Situated on 225 acres in Garden City, Long Island, the college grounds reside in historic Nassau County, one of the most desirable locations to live in the United States and an epicenter for business and careers. Since 1959, NCC has earned a nationwide reputation for academic excellence, affordability, and ease of transferability to four-year schools.
Media Contact: Lindsey Angioletti | lindsey.angioletti@ncc.edu | C: (516) 320-0695
ncc.edu/newsreleases
Ref:22610.8/2/23/50