Immediate: May 5, 2023
SUNY Chancellor John King Visits NCC as Part of 64-Campus Tour
Garden City, New York – State University of New York's new Chancellor John B. King Jr. visited Nassau Community College (NCC) on May 4, 2023 as part of his 64-campus tour of the SUNY system, the largest comprehensive university system in the United States.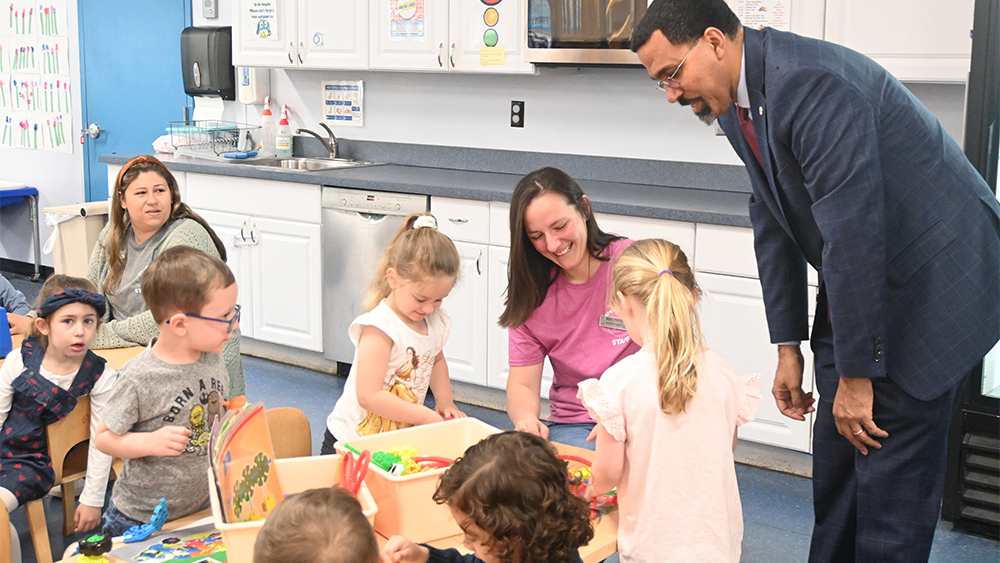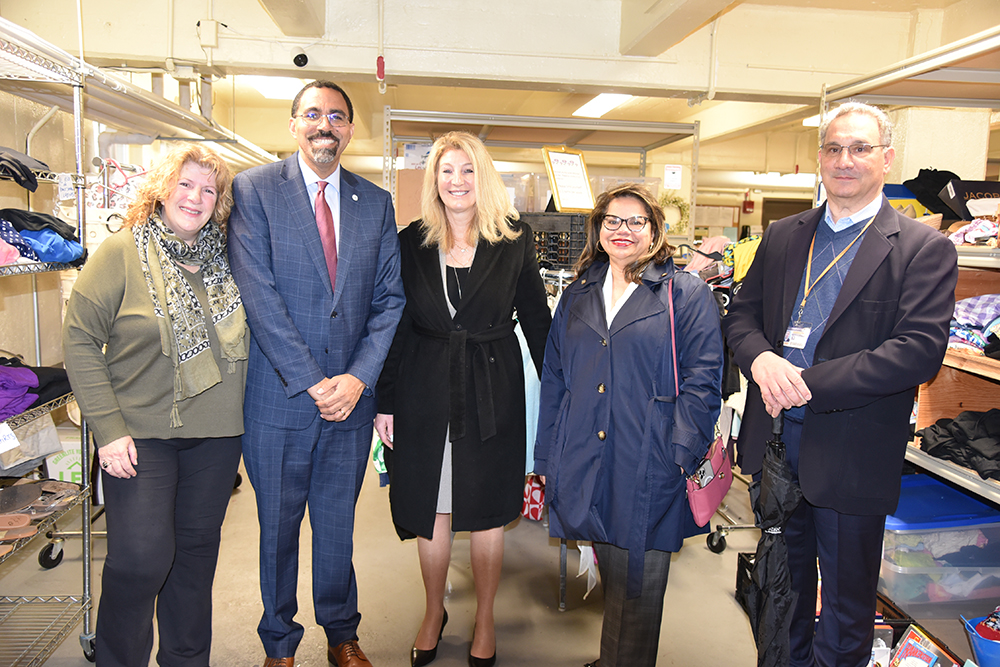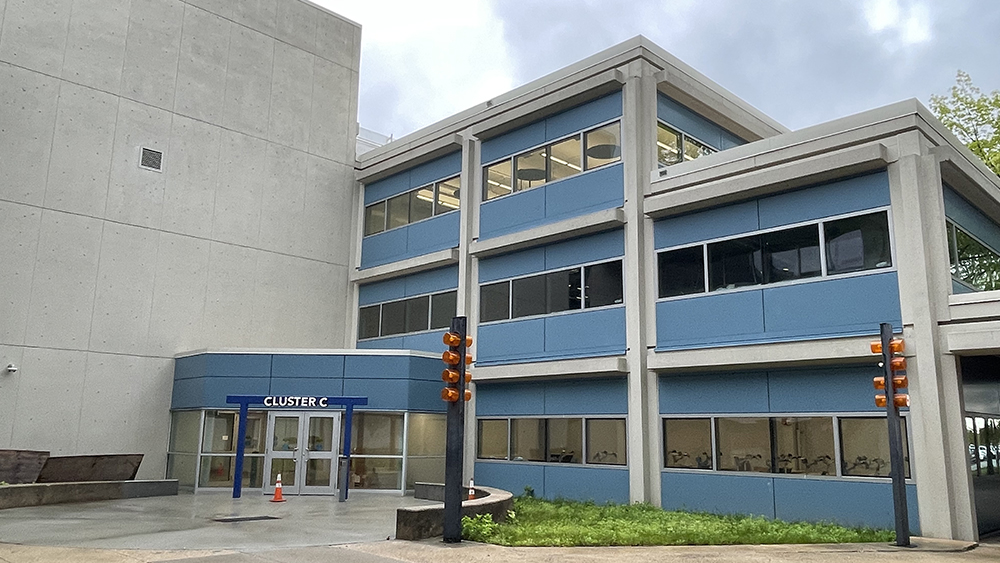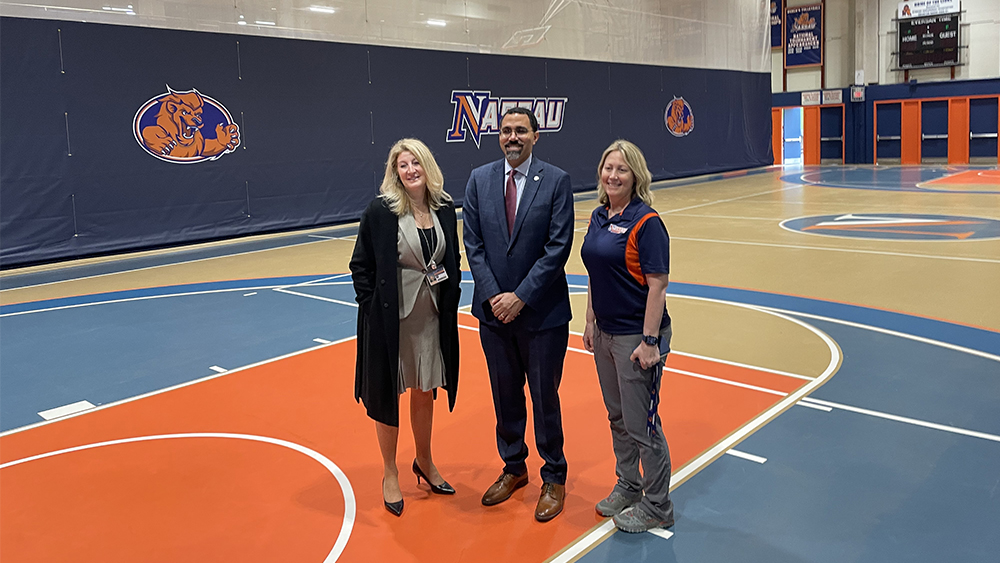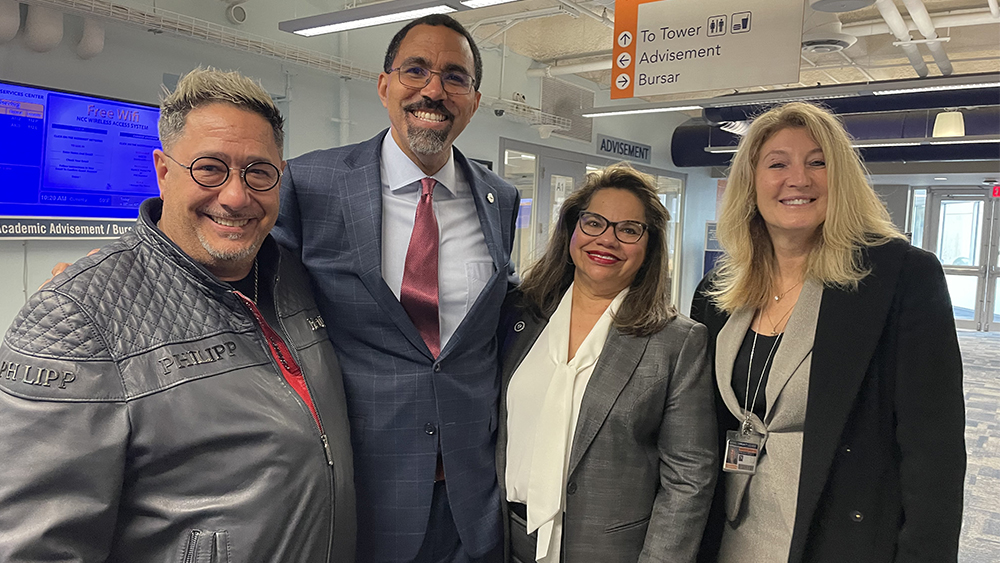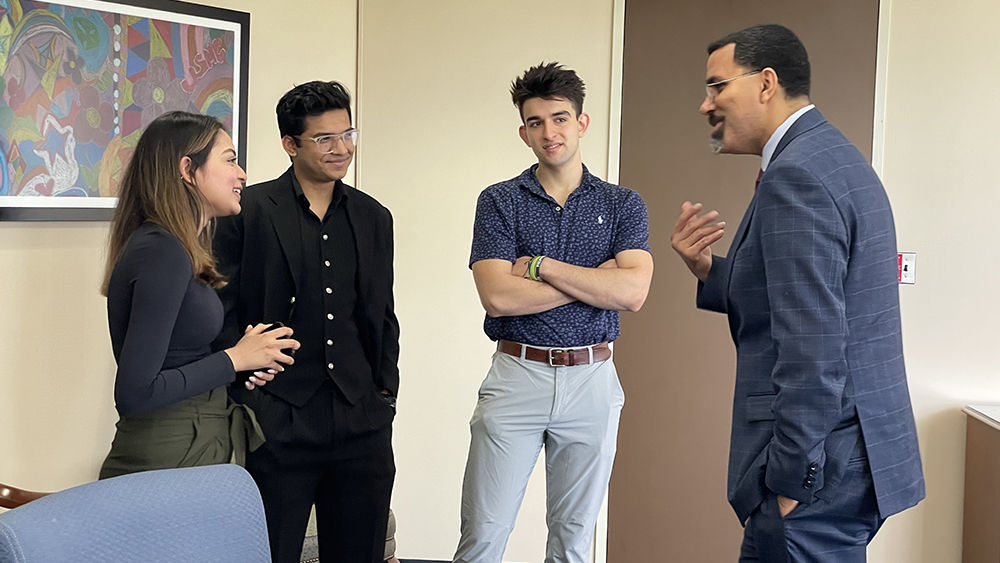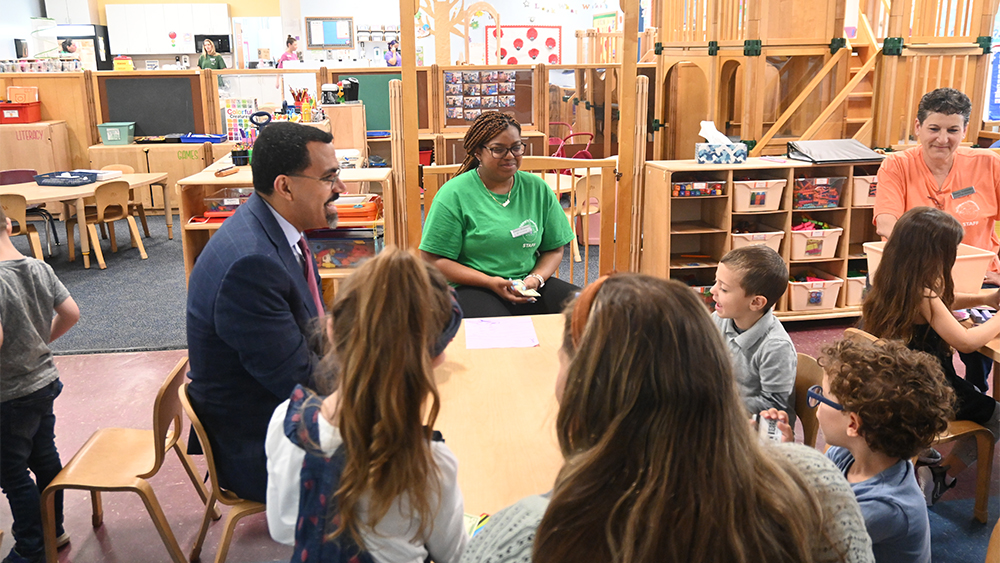 ---
Kicking off the day, Chancellor King was led on a tour of the Garden City campus by Nassau Community College's acting president, Dr. Maria Conzatti '86, who is the first NCC/SUNY alumna to lead the college. Joining Dr. King on the tour was Johanna Duncan-Poitier, the Senior Vice Chancellor for Community Colleges and the Education Pipeline for the State University of New York.
Throughout his two-hour visit, Dr. King engaged in conversations with campus community members and toured various facilities, including The Nest food pantry, the Children's Greenhouse day care center, the newly renovated Cluster C classroom complex, and the physical education building, home to the Nassau Lion's 26 intercollegiate sports teams. Chief Deputy County Executive Arthur Walsh greeted Chancellor King on behalf of Nassau County Executive Bruce Blakeman. New York State Senator Kevin Thomas, who represents the 6th district of Nassau County, including the NCC campus, also met with the Chancellor.
Chancellor King also spoke with campus architect Robert Jarocki and Associate Vice President of Facilities Management Phillip Cappello on the college's plans to renovate the Cluster D building to serve as a center for vocational training to meet the demand for a skilled trade labor force on Long Island. SUNY recently awarded the college $5.4 million for new construction and equipment to support associate degrees and certificate programs in cyber security and medical assistant as well as new workforce training programs in community mental health, welding, electrical systems, and heating-ventilation-and-air-conditioning (HVAC).
Chancellor King hosted a roundtable discussion with current students and graduating seniors, including business, fashion design, accounting, and liberal arts majors, and members of the Student Government Association and Educational Opportunity Program (EOP). He met the Valedictorian of the NCC Class of 2023, Gabe Bauer of Seaford, who is receiving an A.A. in Liberal Arts at NCC's commencement ceremony on May 24, 2023. Bauer, who is transferring to the University of Michigan to pursue a bachelor's degree in business administration, served as the Academic Senate Chair of the Student Government Association and is a recipient of the 2023 SUNY Chancellor Award for Student Excellence.
"A common theme at our SUNY community colleges is the comradery among students, faculty, and staff," Chancellor King said. "I had a great conversation with NCC student-athletes, international students, and first-gen students about NCC's family feel, mental health, microcredentials, and more."
Chancellor King's priorities for SUNY are student success, diversity, equity and inclusion, research and scholarship, and economic development and upward mobility. During his tour of Nassau, Chancellor King was welcomed by NCC faculty members, including SUNY DEI Hispanic Leadership Institute fellow Dr. Leonardo Falcone. SUNY called Nassau Community College a "DEI Leader" and cited its recent ranking in Hispanic Outlook on Education Magazine's top 100 schools for Latinx students.
As part of a discussion with community and campus leaders, including the Nassau County Commissioner of Labor and the Associate Director of Nassau BOCES and Barry Tech, Chancellor King asked how SUNY and New York State can support both Nassau County and Nassau Community College in "advancing as an engine of economic development."
Upon his appointment as Chancellor, Dr. King wrote in an op-ed in USA Today Network: "In the coming months and years, we will deepen our ties with our government partners at the local, state, and federal level, as well as our business partners to align SUNY's programs with regional workforce demands. From skilled trades and the creative economy to preparing the next generation of high-tech workers to power New York's semiconductor and renewable energy sectors, SUNY will lead the way in bridging higher education with in-demand jobs."
During the morning session, Acting Dean of Instruction Dr. Elizabeth Wood discussed how a Nassau Community College education "transforms lives" and that the comprehensive academic portfolio of campus offerings, from the social sciences to the fine and performing arts to workforce development, provides a place for "everyone to see themselves at Nassau."
On his @SUNYChancellor Twitter account, Dr. King wrote of his meeting with workforce training partners: "#NassauCommunityCollege transforms lives," said Acting Dean Elizabeth Wood. It was great to close out campus #58 with a discussion on workforce development. From BOCES to apprenticeships, NCC is committed to uplifting students to bolster in-demand fields. Thanks, NCC!"
Media Contact: Lindsey Angioletti | lindsey.angioletti@ncc.edu | C: (516) 320-0695
ncc.edu/newsreleasesRef:2252.5/5/23/web