Immediate
Nassau Community College Student Nataly Yanza Honored with Norman R. McConney, Jr. Award for EOP Student Excellence
May 3, 2023 Garden City, NY – Nassau Community College student Nataly Yanza, a resident of Hempstead, has been awarded the 2023 Norman R. McConney, Jr. Award for Educational Opportunity Program (EOP) Student Excellence. The award celebrates EOP students who have overcome significant obstacles in life to achieve their educational and professional goals. A ceremony hosted by SUNY Chancellor John B. King, Jr. took place recently to honor Nataly and other award recipients from across SUNY's 64 campuses.
"When I visit our campuses, I am continuously awed and inspired by the dedicated, hardworking EOP students I meet. EOP is a ticket to upward mobility for New York students, which is why I am honored to recognize these students who stand as role models demonstrating what is possible," said State University of New York Chancellor John B. King, Jr.
"The beginning of my college career was challenging, I was timid. But then I found the EOP Program and with their support I was able to find a sense of comfort that allowed me to truly experience and appreciate my time at the College. I experienced a lot of growth and positive changes and a big part of that was learning through EOP," said Nataly. Nataly plans to eventually obtain a master's degree and then pursue a career as a social worker.
"Nataly has consistently demonstrated a commitment to excellence in the classroom along with her involvement with the Caribbean Student Organization (CSO) since her freshman year. As she is on the cusp of completing her degree requirements, Nataly is truly representative of what EOP is at NCC, said William Clyde, Jr., EOP Director. Nataly is currently the vice president of the CSO.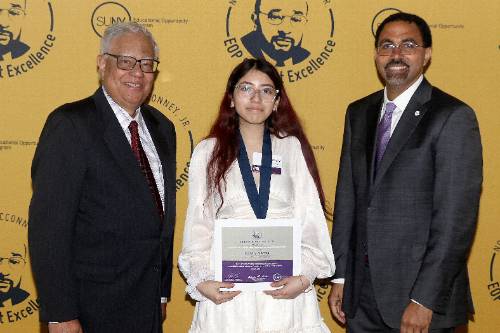 Picture Caption: (L to R) Cesar Perales, Vice Chairman, SUNY Board of Trustees, Nataly Yanza, NCC Student, EOP Award Recipient, and SUNY Chancellor Dr. John B. King Jr.
About Nassau Community College
Nassau Community College, a campus of the State University of New York, provides a comprehensive public college experience designed to transform lives through higher education. Serving 14,000 full-time, part-time and continuing education students, NCC offers more than 80 programs that lead to the associate's degree or certificate. Through on-campus and online offerings, the College educates local and international students, and boasts 168,000 alumni. Situated on 225 acres in Garden City, Long Island, the college grounds reside in historic Nassau County, one of the most desirable locations to live in the United States and an epicenter for business and careers. Since 1959, NCC has earned a nationwide reputation for academic excellence, affordability, and ease of transferability to four-year schools.