Nassau Community College Alumna Jennifer Cella Returns to her Alma Mater for a Special One Night Only Performance
"Absolute Adele Tribute"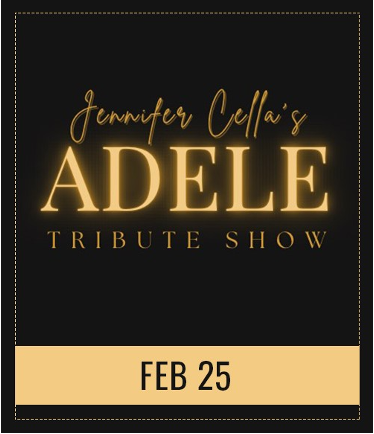 January 11, 2023 Garden City, NY — Jennifer Cella, Nassau Community College alumna and vocalist with the world renowned Trans-Siberian Orchestra (TSO) returns to NCC for a special one night only performance, "Absolute Adele Tribute."
Performances will be held on Saturday, February 25, 2023 at 7:30 p.m. and 9:30 p.m. at the Nassau Community College Theater, Building W. Tickets are available through the NCC online box office https://nassau.booktix.com/seating.php.
"Jennifer flourished as a performer at Nassau Community College. She was brilliant to watch, and we are thrilled she has decided to return to the NCC stage and share her talent with this special performance," said Richard Ginsburg, Chair, Theater and Dance, Nassau Community College.
"I loved my time at Nassau Community College. I was very active in the Theater, and it really gave me a strong foundation to succeed in my career. It is because I got my start at NCC that I am where I am today. I will be forever grateful," said Jennifer Cella.
While at NCC, Jennifer received her associate degree in Liberal Arts and had lead roles in Pippin, Once Upon a Mattress and Betrayal. Subsequently, she sang lead on numerous Trans-Siberian Orchestra albums which successfully went gold and platinum. Her voice can be heard on the timeless classic "Christmas Canon Rock" as well as many other TSO studio tracks. Touring with TSO has allowed Jennifer to captivate sold out audiences on some of the world's most prestigious stages including Madison Square Garden. She has sung alongside Rock and Roll Hall of Famers Joan Jett and Roger Daltrey of The Who, as well as Greg Lake of ELP and John Anderson of YES. With TSO she charted on the Billboard charts numerous times and debuted at #1 on the Billboard Rock Album Chart.
To view more of Jennifer's performances please visit her YouTube channel https://www.youtube.com/@jennifercella5480.
Media Contact: Lindsey Angioletti | lindsey.angioletti@ncc.edu | C: (516) 320-0695 | ncc.edu/newsreleases
Ref:2231.1/11/23/150
About Nassau Community College
Nassau Community College, a campus of the State University of New York, provides a comprehensive public college experience designed to transform lives through higher education. Serving 14,000 full-time, part-time and continuing education students, NCC offers more than 80 programs that lead to the associate's degree or certificate. Through on-campus and online offerings, the College educates local and international students, and boasts 168,000 alumni. Situated on 225 acres in Garden City, Long Island, the college grounds reside in historic Nassau County, one of the most desirable locations to live in the United States and an epicenter for business and careers. Since 1959, NCC has earned a nationwide reputation for academic excellence, affordability, and ease of transferability to four-year schools.