Nassau Community College Names Nick O'Malley
Head Coach of Men's Volleyball Team
NCC One of Ten Schools Offering Men's Volleyball in NJCAA
November 21, Garden City, NY - Nassau Community College has named Nick O'Malley Head Coach of the College's Men's Volleyball Team. Last year, the College received a grant from the NJCAA Foundation and the First Point Volleyball Foundation to begin offering men's volleyball as an official sport at the College. NCC is one of just ten schools that offer the sport within the NJCAA.
"I'm very pleased to announce Nassau County resident Nick O'Malley as our newest member of the NCC Athletics Family. His experience as a SUNY student-athlete and coach in Nassau County high school positions him well for success," said Kerri-Ann McTiernan, NCC Athletic Director. "I was impressed right away with Coach O'Malley's understanding of what it takes to build a successful program. He believes in a student-centered approach as well as enriching our students' college experience in the classroom and on the court. He is a leader, a strong communicator, and a positive person. I am certain Nick will be an inspiring coach for our volleyball players and a great ambassador for Nassau Community College. I am really looking forward to working with him and building this new program."
"I'm very excited to grow this program from the ground up while working with the talented Nassau Community College Athletics Department for the upcoming men's volleyball season," said Coach O'Malley.
Coach O'Malley will start recruiting students for 2023-2024 competitive season. Men's volleyball will become the 25th intercollegiate athletics offering at NCC, joining baseball, basketball, bowling, cheerleading, cross country, Esports, football, golf, lacrosse, soccer, softball, tennis, outdoor track and field, women's volleyball and wrestling.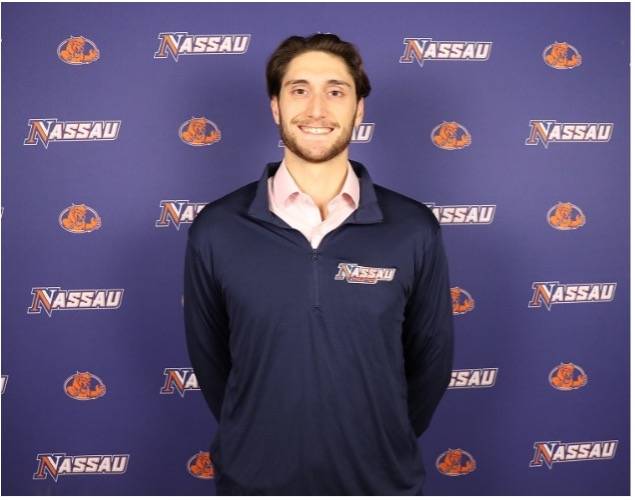 About Coach Nick O'Malley
Coach Nick O'Malley is a recent graduate from SUNY New Paltz with both a Bachelor of Science and Master of Science in Adolescent Education: Social Studies (7-12). Coach O'Malley played as a middle blocker for the New Paltz Hawks from 2017-2021 and received both First Team (2020 and 2021) and Second Team (2019) United Volleyball Conference (UVC) All-Conference recognition, as well as First Team and Second Team National Volleyball Association (NVA)/American Volleyball Coaches Association (AVCA) All-American awards in 2020 and 2021 respectively. Coach O'Malley was a member of the 2017 NCAA DIII Men's Volleyball National Championship runners up team and played an impressive role in securing the 2019 NCAA DIII Men's Volleyball National Championship win, which was the second National Championship Title in program history.
O'Malley has coached at the high school and club volleyball level working at Sportime VBC as the Head Coach to one of its many boys' teams within the program, and as the assistant coach for the East Meadow High School Boys' Varsity Volleyball Team. On top of coaching, Coach O'Malley is currently a member of the professional volleyball team, The New York City Lost Travelers, competing in the Volleyball League of America (VLA).
Media Contact: Lindsey Angioletti | lindsey.angioletti@ncc.edu | C: (516) 320-0695
ncc.edu/newsreleases
Ref:2225.11/21/22/55
About Nassau Community College

Nassau Community College, a campus of the State University of New York, provides a comprehensive public college experience designed to prepare students to start, and continue, their successful journeys through higher education. Serving 14,000 full-time, part-time and continuing education students, NCC awards 67 associate degrees and 25 certificates. Through on-campus and online offerings, the college educates local and international students, and boasts 168,000 alumni. Situated on 225 acres in Garden City, Long Island, the college grounds reside in historic Nassau County, one of the most desirable locations to live in the United States and an epicenter for business and careers. Since 1959, NCC has earned a nationwide reputation for academic excellence and ease of transferability to four-year schools.